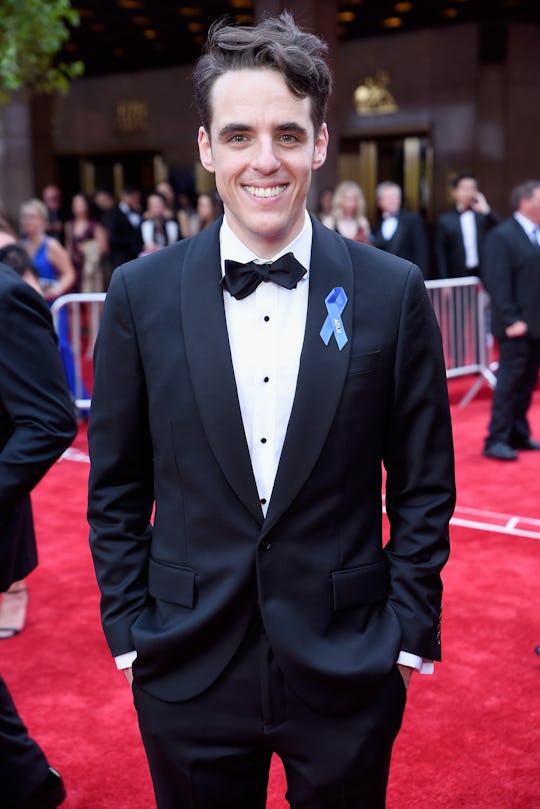 Jenny Anderson/Getty Images Entertainment/Getty Images
Blue Ribbons Could Be Found All Throughout The Tony Awards
It's always fun to see the fashion trends sported at awards shows, but this year the trend is leaning politically. What do the blue ribbons at the 2017 Tony Awards mean? Their message is significant, and we should all be paying attention, not just the fashion police.
The blue ribbons are in support of the American Civil Liberties Union (ACLU), who reportedly reached out to Tony Awards nominees and asked them to wear the ribbons in support of the organization, which works to defend individual rights, and has existed for the past 100 years. Many stars responded, and chose to wear the blue ribbons in support of the organization on the red carpet, sending a strong positive message to everybody watching. These stars included Mark Hamill, writer of Dear Evan Hansen Steven Levenson, Nick Kroll, and Scarlett Johansson.
The ribbons are subtle enough not to interfere with the glam of everybody's outfits, but definitely send a loud, strong message to the viewers, and hopefully to the White House. The ACLU's official social media account tweeted messages of encouragement to viewers, advising them to tweet and notify them whenever they saw the little blue ribbon on the red carpet. And Twitter responded in kind.
This is hardly the first time ACLU ribbons have made an appearance on the red carpet. The ACLU made a similar splash at the Oscars, and Millie Bobby Brown made headlines when she sported the ribbon loud and proud at the 2017 MTV Movie Awards, which is not a venue that's exactly known for being particularly political.
However in this bizarre, upside-down, post-apocalyptic political climate we're living in, people are getting more and more active in speaking out, particularly those in Hollywood. While the ACLU ribbons are a relatively subtle way to show support for a good cause, other stars are using their platform at awards shows in a more outspoken way. Who could forget Meryl Streep's earth-shaking speech at the Golden Globe Awards, after all? And in accepting the award for Best Featured Actress in a Play, Cynthia Nixon took the opportunity to call for people to stand up and fight for their beliefs, rather than stand by and watch.
Whether or not Donald Trump actually notices this new fashion trend, I'm proud to live in a country where people use their public platforms to send a positive message that will hopefully affect some real change in the world.