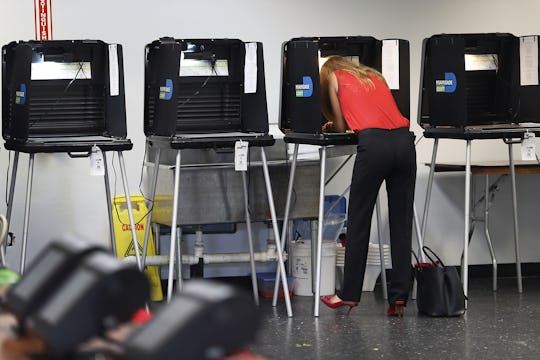 Joe Raedle/Getty Images News/Getty Images
What Do You Need To Register To Vote? It's Easy & So, So Important
The first presidential debate is upon us, and, according to the media hype, it's going to be epic. CNN predicted that the face-off between Republican Donald Trump and Democrat Hillary Clinton will attract as many as 100 million viewers Monday night. Many experts believe that what happens between the candidates onstage could drastically influence public perception of them in this tight race, but that truly doesn't matter if those opinions don't translate into votes. That's right, you've heard it a fitting 100 million times and I'm going to say (well, write) it again: It's imperative to know what you need to register to vote, if you haven't done so already, because to say there's a lot at stake Nov. 8 is the understatement of 2016.
Considering the defining moment of this election cycle that the first presidential debate has the potential to be, it's definitely appropriate that the following day, Sept. 27, is National Voter Registration Day. Adopted by the National Association of Secretaries of State, it's a major push to get as many Americans as possible registered to cast their ballots, propelled by volunteers descending on communities to provide education and tools. Luckily for the event's organizers, registering to vote is super duper easy for nearly everyone who wants to do it.
Voter registration deadlines vary from state to state (the last day in noted swing states Ohio and Florida is Oct. 11), but www.nonprofitvote.org offers an easy-to-use map of deadlines that segues into registration instructions for each state as well. And eligibility hinges on criteria and materials most adults in this country have: United States citizenship, identification or social security number, and a mailing address. And, 31 states plus Washington, D.C., support online voter registration.
But despite the ease of access and a relatively streamlined process, only about seven in 10 Americans are registered to vote, according to the United States Census Bureau. That means a huge swath of the American electorate is not helping to elect leaders who will champion policies that will be best for them and their neighbors, and make the United States a better, more equitable place to live for all Americans.
So, on National Voter Registration Day and beyond, there are so many platforms making the process even quicker and easier than voting itself. Because we're all (mostly) #millennials here — and that's a huge demographic that's severely underrepresented at the polls because of low voter turnout — tech companies are at the helm of efforts to encourage young people to vote. Clicking on Monday's Google Doodle transports internet surfers right to information about how to register in their own state, online if the state allows that, as well as by mail and in person. Snapchat now boasts the capability to get users signed up to vote in about a minute, and a new chat bot service called HelloVote makes it virtually painless to register via text message.
Romper and its sister site, Bustle, are teaming up with Rock the Vote and other women's publications to ensure everyone who wants to registers by embedding a nifty registration tool into content between now and December, like so. Use it!
Romper, of course, is especially attuned to the interests and needs of women and young mothers, making this #OurVoteCounts campaign especially important during this year's race. In the 2012 election that ultimately granted President Barack Obama a second term in office, women cast 53 percent of votes and effectively determined the outcome, according to The Center for American Progress. That year, jobs and the economy were their primary concern, and abortion and women's health issues were also influential in the way women voted.
In 2016, child care has emerged as a significant election issue. This month, Trump unveiled a plan that would make child care tax deductible for couples earning less than $500,000 each year and promised six weeks of paid maternity leave, but offered zilch by way of paternity leave for fathers. Under Clinton's plan, on the other hand, the government would make sure that no family has to allocate more than 10 percent of their income to child care.
By voting, women, millennials, mothers, and all Americans make sure that they have a say in how this country moves into the future. You don't need to have much to vote, but you do need to have a drive to make the United States the best it can possibly be. Voting is the first place to start celebrating democracy and civic engagement, and, honestly, it couldn't be much easier.