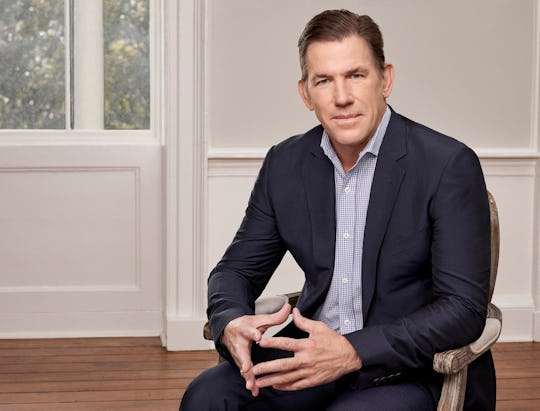 Rodolfo Martinez/Bravo
Thomas's Girlfriend On 'Southern Charm' Has An Admirable Career
Before Ashley Jacobs came to Season 5 of Southern Charm, there was always some kind of drama between Thomas Ravenel and his ex, Kathryn Dennis. With Ashley as the new woman in the picture, you'd think some of that drama would subside, but it's likely only going to get worse as the season progresses. Since she's already inadvertently caused such a stir, fans are probably curious to know more about her. For starters, what does Ashley Jacobs do? Thomas' girlfriend on Southern Charm isn't just new to the show; she's new to Charleston as well. In fact, she left an entire life behind her in Santa Barbara, California in order to be with Thomas. But the whirlwind romance obviously felt meant to be for the couple, even if it's going to cause even more issues with Kathryn.
It's hard to say if Ashley has found a new job in Charleston, or if she's still trying to gather her bearings and adjust to a totally new lifestyle, but back in Santa Barbara, she was a nurse, and a super proud one at that. Her Instagram bio still describes her as a "full-time nurse" and "part-time fashionista," so she could always pick her career back up once she's settled on the East Coast. Then again, she does seem to be embracing the full reality TV culture that Southern Charm brings to the table, with her publicist's e-mail address also in her Instagram bio, so Ashley definitely has a lot going on in her own life.
In the past, Ashley has also done some social media modeling for a spray tan company called Shades Spray Tans, so it's possible that her newfound reality TV fame could result in some more similar opportunities. And honestly, even if Ashley doesn't return to her career as a nurse, that's really her decision to make. But before Thomas came along and the two fell in love, it would seem that her main career focus was nursing.
It's hard to say for certain what Ashley's medical focus is on, but she's posted photos on Instagram of former child patients, so it's possible that she works, or worked, as a pediatric nurse back in Santa Barbara. But instead of continuing with her chosen career field, she might have stumbled into a whole new lifestyle altogether. As most Southern Charm fans know, Thomas is a former State Treasurer and during one season of the show, his run for U.S. Senate was shown. In the end, he lost the election, which he later claimed was due to the fact that he hadn't been ready for the campaign at the time. But if he has hopes to further his political career in the future, having Ashley by his side might eventually turn her into a politician's wife. You never know!
Whether or not Ashley decides to go back to work after permanently settling down in Charleston, or if she chooses to go down a different career path, prior to being part of Southern Charm, she did have an admirable job. Maybe that's part of the charm that Thomas, a single father of two, saw in her right from the start. But commendable career or not, Ashley will definitely be part of the ongoing drama between Kathryn and Thomas for the duration of Season 5, even if that was never her intention. Judging by the few interactions that have been shown in the promos for this season of Southern Charm though, I would imagine she'll be able to hold her own when it comes to her new beau's ex-girlfriend.
Check out Romper's new video series, Romper's Doula Diaries:
Watch full episodes of Romper's Doula Diaries on Facebook Watch.