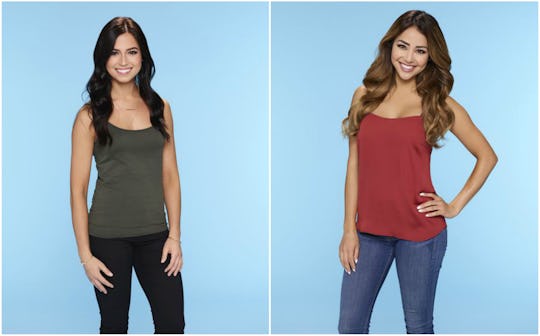 Mitch Haaseth/ABC
Danielle L. & Kristina Aren't Exactly Close On 'Bachelor In Paradise'
It was so exciting to see Kristina show up on Bachelor in Paradise. After being eliminated in Nick Viall's season and winning everyone's hearts, she totally deserves a second chance at love. And who better to find it with than Dean Unglert, Rachel Lindsay's broken-hearted finalist? But things are never easy in Paradise and with the arrival of Danielle Lombard from Nick's season this week, there might be a love triangle washing up on shore. Dean may end up liking both of the women, so what does Danielle L. think of Kristina on Bachelor In Paradise?
It's pretty difficult to tell, actually, judging just from social media. But it doesn't look like the two women are close friends by any means, though they aren't saying anything mean either, which is a good sign. Both of the women were on Nick's season, though they didn't seem to bond as much as some of the other women from that year, either. Think about it: Raven, Alexis, and Jasmine seem like BFFs for life, right? And as soon as Danielle L. shows up, she falls right in with the old "Nick's Season" crowd. But sans Kristina.
In case you need a refresher, Danielle L. was the woman who went on the Backstreet Boys date with Nick, only to be eliminated on a two-on-one date, right after she said she was in love with him. Kristina made it much further, but she's notoriously kind of shy, so it's hard to imagine a real feud. Then again, in Paradise, anything is possible. Judging from social media, the women are definitely not besties, or hanging out after filming with the rest of the crew.
Kristina Isn't In Any Of Danielle L.'s Instagram Photos
Editor's Note: The Instagram post has since been deleted.
Which could be a clue in and of itself that they don't get along that well — or at least don't seek out each other's company.
Kristina Is Difficult To Read On Twitter
In the first episode of this season of Bachelor In Paradise, Kristina and Dean immediately hit it off. By the time they sat down to their first dinner date, they were totally swooning. Dean even called Nick an "idiot," for not proposing to Kristina, which seemed to show that he was really, really ready to fight for her heart.
When production was halted for a couple weeks after the alleged incident between DeMario Jackson and Corinne Olympios, Dean and Kristina reportedly left Mexico together. Upon their return, the two still seemed interested in one another.
With the arrival of Danielle L. this week, though, Dean's attention might not be as focused as before. Hopefully, Danielle and Kristina don't let it get too out of control and can keep it as civil as they already have. This Paradise season already has enough drama.