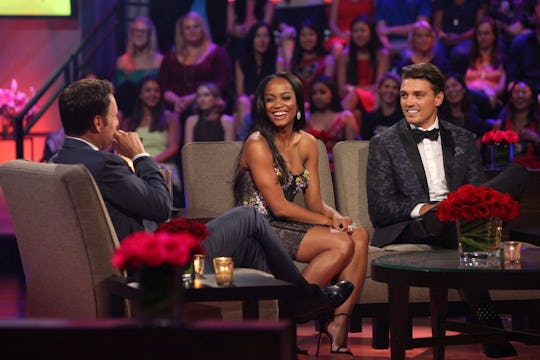 Paul Hebert/ABC
Dean Will Make His Feelings For Rachel Known On The 'Men Tell All'
Dean seemed like a shoo-in from the start of the season, given his good looks, charm, and just all around good attitude about pretty much everything. He managed to stay out of the drama and remain in Rachel's good graces throughout most of the season. She even told him she was in love with him. But since she also sent him home shortly thereafter, what does Dean think of Rachel after The Bachelorette?
After the taping of the Men Tell All special, Access Hollywood special correspondent and former Bachelor contestant Ashley Iaconetti spoke to Dean about facing Rachel again and brought up his body language while filming the Men Tell All episode. She pointed out how he looked sad or almost angry with Rachel during the show, but he revealed that it was pretty much the opposite.
"I wasn't angry at her," Dean insisted, and added that after confronting her about why she told him she loved him, he got what he wanted. "It provided me the sense of closure that I needed and I'm ready to move on to the next chapter."
In a clip from The Bachelorette's Men Tell All special, Dean asks Rachel why she told him she was in love with him and she said that her reasoning was basically that she did feel love for him in the moment and she didn't just say it "as a consolation prize," but that "It's just that you had so many emotions that were new to you, and I feel like some of your feelings of love were wrapped up in that."
Now that Dean's time on The Bachelorette has been over for a couple of weeks, his thoughts on Rachel seem to be totally pure but then again, we'd expect nothing less from one of the sweetest guys from her season of The Bachelorette.
Before the Men Tell All taping even began, Dean sat down with Entertainment Tonight's Lauren Zima and revealed that since his time on The Bachelorette ended, he's been able to build a different kind of relationship with Rachel. "We text back and forth every once in awhile," he said. "I'm excited to focus on our friendship now more than a romantic relationship with her. I think she's an awesome girl, so we have no bad blood whatsoever."
Spoken like a true future Bachelor, am I right? Even though nothing's been confirmed and right now it's just the hopeful cries of tons of fans, having Dean as the next Bachelor would definitely make sense given that he came out of Season 13 of The Bachelorette as a total gentleman and continues to warm our collective Bachelor-loving hearts.