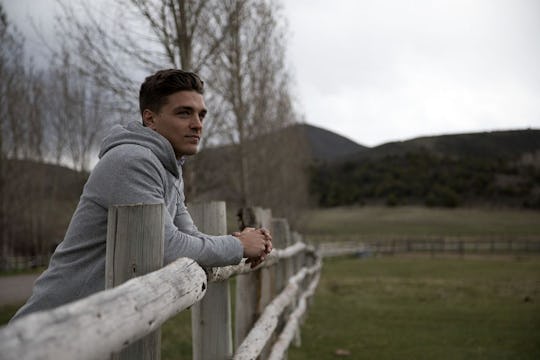 Josh Vertucci/ABC
Dean's Search For Love May Continue Beyond 'The Bachelorette'
As much as fans love Dean and all of his boyish charm, that whole boyish thing is what's likely going to do him in. After their last not-so-serious talk, it seems like his inability to open up further is what's going to lead to his end. So if/when that happens, will Dean be the next Bachelor? Earlier in the season Rachel worried about their six-year age difference, but when he opened up to her about all he'd been through, she seemed to take a step back and see him differently.
Dean's recent immaturity when she was trying to feel him out about the upcoming hometown date was so hard to watch, so let's imagine how Rachel felt in the thick of it. If Dean is picked as the next Bachelor, it might be the best thing for him though. Clearly, he has real feelings for Rachel and just needs some practice in putting himself out there more and being more open. Though considering Dean's complicated relationship with his dad, I can understand his hesitancy to open up.
If he's the next Bachelor, leading these dates instead of simply participating in them, he might find that maturity Rachel would probably prefer to see in him now. To his credit, he's only 26, but he wouldn't be the youngest Bachelor ever.
Well, technically, Dean would be tied with Ben Higgins from Season 20 and Season 5's Jesse Palmer, who were both 26 when their respective seasons aired. But it doesn't take away from the fact that if Dean is the next Bachelor, he's still going to be a young one at that.
Though if history has taught us anything, it's that someone from Rachel's season of The Bachelorette could indeed be named as the next Bachelor and who better than one of the remaining men in the top four? Before Dean's awkward skirting around the topic of his family with that awful dinosaur question, he'd been doing really well with Rachel and was one of the several men who shed tears this season. So he's not afraid to open up occasionally, he just needs to be able to do that more. Because asking the women of The Bachelor what their favorite dinosaur is won't make for very exciting Bachelor content.
The official announcement about the next Bachelor hasn't been made yet and it could very well be a favorite from JoJo's season of The Bachelorette, but since there were so many memorable guys from Season 13, Dean included, it's entirely possible that producers will be pulling from the latest pool of potential suitors.