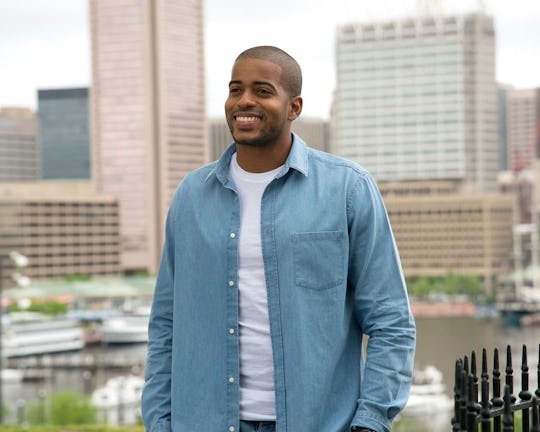 Randy Sager/ABC
Eric Just Wants Rachel To Be Happy After 'The Bachelorette'
After getting off to a rocky start this season, Eric managed to totally turn things around and become one of Rachel's favorite guys, making it to the final three. But since she had to let someone go before narrowing it down to her final two prospective fiancés, Eric went home during The Bachelorette season finale. And now that Rachel has made her choice, what does Eric think of Rachel and Bryan on The Bachelorette? As he's said time and again, his main concern is Rachel's happiness.
When Eric spoke to TMZ back in June about race playing a role this season on The Bachelorette, he said flat out, "I think at the end of the day, she has to pick the person who she's fallen for, who she's in love with." He made it clear that regardless of the race of the guy Rachel ended up choosing, it was about her finding love in the end. And with Bryan, she obviously did. I mean, we could have all guessed that at the beginning of the season when Rachel and Bryan's chemistry was on fire.
During hometown dates, Eric told his mom that even if he didn't end up with Rachel in the end, opening himself up to living her wasn't something he wanted to run away from, so since he got to experience at least that, he likely holds no grudges now that Rachel and Bryan are together.
Even though he made it well past the hometown dates and seemed to have a successful fantasy suite date with Rachel, she sent Eric home on The Bachelorette season finale before he could have the chance to propose to her. Proposing was likely his goal, as he'd asked her mom for permission and got it, but Rachel's feelings were much stronger for both Peter and Bryan. Luckily, Eric seems like he's just happy to have had the time with her.
When the episode a week before the Men Tell All special aired, Eric posted a photo on Instagram of him, Dean, Peter, and Bryan and gave a shout out to his fellow final four Bachelorette contestants, proving that even with the stiff competition, he was a good sport throughout the process. Even when Peter was venting to Eric about his feelings regarding Bryan's character, Eric was pretty much neutral on the topic. He said from the beginning of the season that he was there for Rachel and nothing more. So as long as Rachel found happiness, Eric is probably happy for her.