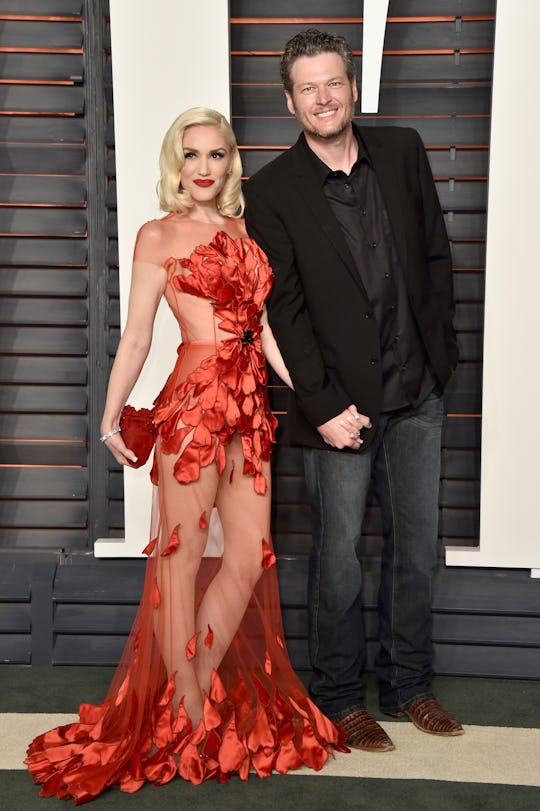 Pascal Le Segretain/Getty Images Entertainment/Getty Images
What Does Gwen Stefani Think Of Blake Shelton's "Came Here To Forget"? The Singer Is Very Supportive
They work together, tweet together, and even went through their respective divorces together. So what does Gwen Stefani think of "Came Here To Forget," her boyfriend Blake Shelton's newest single about a rebound relationship? Stefani seems to be a huge fan, even though it's obviously (or seemingly, at least) about the beginnings of their relationship. With lyrics about drinking their heartbreak away and lines like this: "you're getting over him, and I'm getting over her/ain't gonna say a word," Shelton sort of puts their relationship on blast. But Stefani doesn't seem to mind one bit. When his album was released and Kelly Clarkson congratulated him on Twitter, she quickly responded that his new album, was "sooooo good."
Both artists named their albums in honor of transparency, so there doesn't seem to be any bad blood between them or any of their exes. Stefani's album is called This Is What The Truth Feels Like and Shelton's is named If I'm Honest, which is sort of a nice way to start a relationship, if you ask me. If they had any private conversations about being each other's rebound, they're not talking about it to the press. Throughout their new courtship, Gwen and Blake have been super open about their friendship and their vulnerability as recently single humans. His performance tonight of his rebound tune should be no different.
Blake Shelton opened the show with the song and knowing that his ex-wife Miranda Lambert was in the audience had some fans feeling a little awkward. Others were very relieved that CBS didn't cutaway to the audience during the performance — no one wanted to see Lambert's face while listening to that song. In her defense, she was well-prepared with her new boyfriend, Anderson East, by her side all night and she killed her performance on Sunday. By all appearances, Shelton's lyrics about finding someone new weren't bothering her either.
All of this openness and camaraderie between the two couples seems so real — especially since it's all pretty much unfolding in pop songs and social media. Remember when Stefani actually liked one of Lambert's tweets? Gwen, Blake, and Miranda are making divorce, finding new romances, and even working together look so easy. Between the three of them, there's a lot of talent. And obviously, a whole lot of respect. So whatever they're doing, it's totally working, and that's really great news for everyone involved.