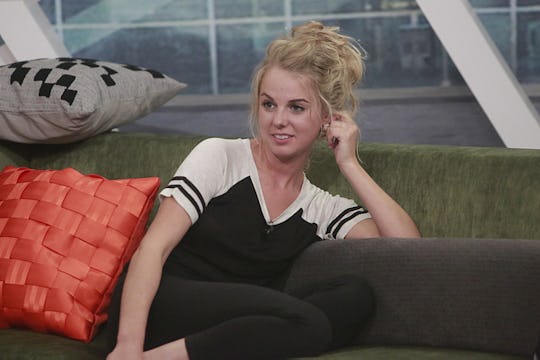 Bill Inoshita/CBS
What Does Hayden Think Of Nicole On 'Big Brother 18'? He Still Supports Her
Two seasons ago on Big Brother 16, the showmance that bloomed between Hayden and Nicole blossomed into a full blown relationship that progressed well beyond the Big Brother house. Then, Nicole popped up (literally) for Big Brother 18 and revealed that she's suddenly single now. So since they're now apparently done-zo, what does Hayden think of Nicole on Big Brother 18? Surprisingly, according to social media, it seems like not much has changed between them except their relationship status.
The former Big Brother houseguest seems to be totally supportive of Nicole getting back into the game, despite the fact that they are no longer in a relationship. Which is kind of amazing, considering the fact that Hayden could have gone on to be jaded and disappointed that Nicole returned to Big Brother and he didn't.
During Big Brother 16, Nicole and Hayden started off as the playfully flirty duo that their fellow houseguests and then the fans began to ship hard. Eventually, after being pursued by Hayden for a little while, Nicole finally gave into her feelings and they were a thing. And they did what a lot of other reality TV couple fail to do — they stayed together. Like legitimately, wholeheartedly became a real life couple long after their Big Brother season ended.
Nicole allegedly revealed on the Big Brother feeds that something changed in Hayden last year after his haircut (take that how you will) and shortly afterward, they broke up, but are still friends. Also take that with the tiniest grain of salt you can find, because the amount of Instagram and Twitter photos of the two of them have — up until very recently — make them look like a lot more than friends after a break-up. They were even just at a premiere of the movie Me Before You together. Then again, Nicole later went into more detail about the reasons behind their breakup, so obviously it was a combination of being out of the Big Brother house, getting to know each other on an even deeper level, and having skewed priorities.
In any case, though, despite their current status of being broken up, Hayden seems to support Nicole in her new chance at winning that $500,000 prize on Big Brother. Maybe the fact that Nicole doesn't have any showmances brewing (yet) on Big Brother 18 means that she'll be more likely to go farther than last time. But, Nicole having the support of Hayden says a lot about their relationship, romantic or not, so you've got to give props to the former couple. And, you know, mop up some of those tears about a good thing gone bad.