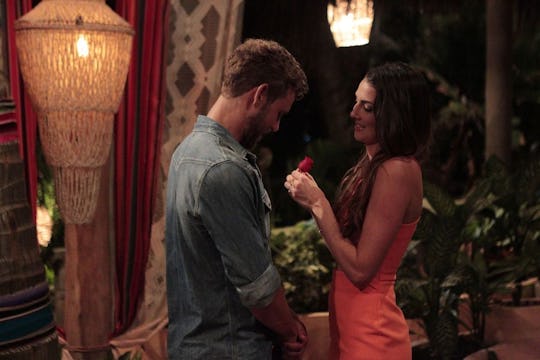 ABC/Rick Rowell
What Does Jen Saviano Think Of Nick Viall As 'The Bachelor'? She Is All Of Us
Whoever was waiting impatiently in front of their TV screens Tuesday night while After Paradise went on and on and buried the Hell out of the lead can understand how satisfying it was when they announced who the new Bachelor would be. Because after appearing on The Bachelorette twice and then Bachelor in Paradise, Nick Viall deserves this real shot at finding love. But what does Jen think of Nick Viall as the Bachelor? (Romper reached out to Jen Saviano for a comment but did not hear back at the time of publication.) Up until Tuesday's After Paradise, everyone pretty much assumed that Jen and Nick's relationship would progress at a normal pace and result in something real once they left paradise.
But the announcement that Nick Viall is the new Bachelor also brought with it the spoiler and revelation that Nick and Jen don't stay together after Bachelor in Paradise. Even though Jen already knew this because filming has been wrapped for a while, what does she think of Nick being the next Bachelor? She took to Twitter to comment on the matter by way of an Amy Schumer gif of the comedian chugging an over-sized glass of wine. A.k.a., Jen gets the magnitude of the revelation on After Paradise and how it gives away the ending of her own story on this season, which really isn't cool.
The announcement of Nick as the next Bachelor came as a surprise, since most of us had expected it to be someone from the most recent season of The Bachelorette, but giving Nick a chance to find love on the one Bachelor Nation show he hasn't yet been on is kind of perfect. The only downside, though, is that now we know the fate of Jen and Nick's relationship on Bachelor in Paradise and who isn't a little but sad about this seemingly normal couple?
During Tuesday night's episode of Bachelor in Paradise, Jen also retweeted a photo from a scene with herself, Jami, and Nick, agreeing that Nick was a third wheel. Was this in anticipation for what would later come in the form of letting the world know that Nick and Jen don't stay together?
Admittedly, Jen and Nick didn't have too much time to really build something in paradise and probably spent more time trying to figure out where they could sleep than actually sleeping together. But among the weirdness of Carly and Evan and the state of limbo with Lace and Grant was a cute and normal couple in the form of Jen and Nick. So honestly, even if she was a little hurt, I wouldn't blame her.