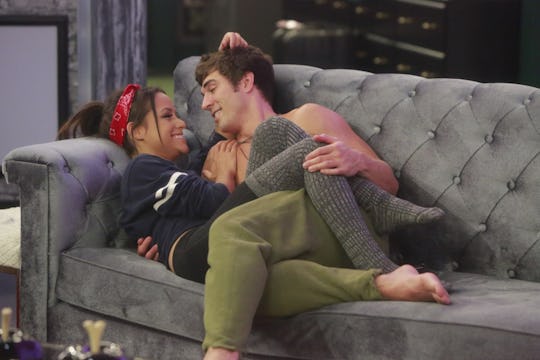 Bill Inoshita/CBS
Jessica & Cody May Be The Real Deal On 'Big Brother 19'
Josh might have said it best on Monday's episode of Big Brother when he called Jessica and Cody Mr. and Mrs. Meatball, but only because they're basically a real couple these days. They've gone beyond the showmance of it all and are even calling each other boyfriend and girlfriend. But since they both have families and lives outside of the house, what does Jessica's family think of Cody on Big Brother 19?
Their relationship is pretty legit these days, so both of their families are likely watching them specifically now more than ever. Unfortunately on Monday's episode, we didn't get to see Jessica enter her Head of Household room for the first time or even see her read her letter from home, but she did mention her mom earlier in the episode. When she told Cody that she saved him this time by becoming Head of Household, she added, "My mom is gonna scream." But is that because she's making her showmance a priority or because she's playing the game better than Cody already?
Either way, it's hard to figure out exactly what Jessica's family thinks of Cody and their Big Brother showmance, but you have to assume that they're supporting her no matter what. There is an official Big Brother 19 Twitter account for Jessica that will be handed over to her once the show is over for her and if a family member is currently controlling the account, then it's safe to say that Jessica's family supports her game, Cody included. They even retweeted the moment Cody won the Battle Back and the season's strongest showmance reunited.
Since Jessica has managed to play a pretty strong game since Cody left and came back into the house, she's proven herself to be a good competitor rather than someone who should have gone on The Real World instead. And let's be honest, sometimes houseguests seem like they'd be happier in that kind of environment rather than the Big Brother house.
But with the way Jessica's been playing lately, her family is more than likely proud of her and since Cody has been her number one ride or die ally in the house, there's no reason to suggest that they wouldn't support Cody and Jessica's showmance on Big Brother 19. While it's true that Cody sort of messed up his relationshionships with the other houseguests after becoming the first Head of Household this season, Jessica knows how to play the game and even in his absence she was able to hold her own.
Big Brother isn't about showmances exclusively, but if ever there was a power couple who could potentially take back the house, it's Jessica and Cody. And because of that, her family is probably in total support of their relationship.