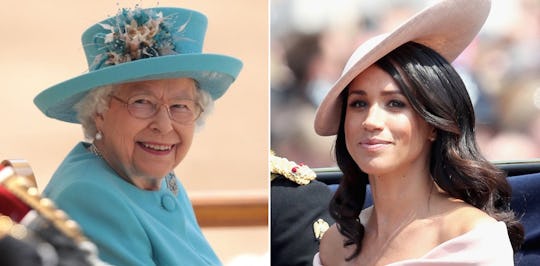 Chris Jackson/Getty Images News/Getty Images/ Chris Jackson/Getty Images News/Getty Images
Here's The Sweet Nickname Meghan Markle *Might* Get To Call The Queen Someday
When you marry someone, as the saying goes, you also marry their family. While this may be true for many people, it really couldn't be more on-the-nose for those who marry into the royal family. Indeed, now that she's married to Prince Harry, Meghan Markle will be getting nice and cozy with the British royal family in the coming months and years ahead. But that will, understandably, more than likely take some time. For now, though, it's fair wonder if the Duchess of Sussex is on a nickname basis with her in-laws yet or if Meghan Markle calls Queen Elizabeth anything fun, other than something like "Her Majesty" or "Your Royal Highness." Well, as it turns out, she could eventually call the queen by an adorable nickname, but it might not happen for quite for some time.
Queen Elizabeth II is, obviously, a big deal. As the longest-reigning monarch ever, according to The Guardian, it makes sense that she would have a pretty formal moniker, even behind closed doors. But, at the end of the day, the queen is still a person with a family. And more than that, she's a mother, a grandmother, and a great-grandmother. And especially with some royal grandkids in the mix, it makes sense that not everyone in the family addresses her as "Your Majesty" all the time. Well, Markle might have to, for now.
The thing is, as The Mirror reported, the queen has a variety of nicknames ranging from sweet to just quirky and adorable. And, according to The Mirror, Markle could one day be calling the queen "Mama." According to The Sun, royal expert and editor of the British magazine, Majesty, Ingrid Seward explained that Markle would only call the queen "Mama" once she "gets to know her as Diana did," should she choose to use this nickname.
Because neither Markle nor the queen have shared if they have any nicknames for each other yet, it's not totally certain how they address each other when they're just hanging out or having dinner. But it's probably a safe bet that she isn't calling her grandmother-in-law "Mama" just yet.
According to The Mirror, Markle will have to be really and truly a part of the royal family to earn that honor. But, that begs the question: How long will it take for Markle to be a tried and true member of the royal family? Prince William and Kate Middleton have been married since 2011 and have three children — Prince George, Princess Charlotte, and Prince Louis — together, so is she allowed to call the queen "Mama" yet?
Honestly, it's hard to say. But as Seward explained to The Sun, "When Meghan greets the Queen... she will address her as Your Majesty and curtsy." So, for now, it's all still very formal.
But not everyone is as formal with the queen. According to Express, the queen actually has a number of nicknames. For instance, it's not all that surprising that the queen's great-grandchildren — that would include Prince William and Middleton's kiddos — don't exactly call her "Your Majesty." As Express previously reported, Prince George couldn't quite get her name down when he was younger and called her "Gan-Gan" instead, which is pretty adorable and a lot more child-friendly.
With a full name like Elizabeth Alexandra Mary, though, it's clear why nicknames would be deemed appropriate at times. And while Markle may not be totally in with the royals just yet, she's certainly working hard to get there. After all, just about a month following her wedding to Prince Harry, Markle is already expected to make a royal appearance with Queen Elizabeth, according to People, and it's no ordinary affair. Not only will the two be going out of town together, but they'll be doing so on the queen's own luxury train, according to Express.
While this may not seem all that exciting, this trip is actually a pretty big deal for Markle. According to Hello! Magazine, she may actually be get to ride on the queen's train before her husband. The publication noted that only Prince William is thought to have used the train before, which means Markle would be beating out both Prince Harry and the Duchess of Cambridge. So, yes, it's kind of a big deal.
But it also makes sense. The queen has reportedly been very keen on making sure that Markle is given the proper information and resources to adjust to being a member of the royal family, according to People. Specifically, according to Seward — who is also the author of the biography, My Husband & I about the queen and her husband, Prince Phillip — the queen reportedly understands that Markle will need a lot of advice at the start. "The queen knows the potential pitfalls of not giving [new members] a guiding hand," Seward told People.
So, who knows, Markle will be able to call the queen "Mama" sooner rather than later. After all, you don't just spend the night on a train with someone and not bond.