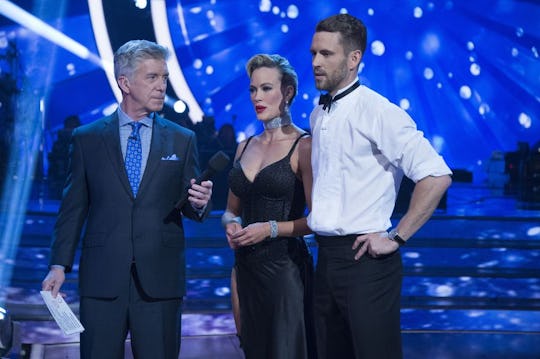 Eric McCandless/ABC
Nick Viall Has Spoken Out About His Experience On 'DWTS'
Whenever you get a seemingly random reality TV star on Dancing With the Stars, you usually see them totally bomb out under the pressure or do impressively well. In Nick Viall's case though, he wasn't perfect, but he also worked so hard each week and it showed. But now that he's been officially eliminated, what does Nick Viall think of Dancing With the Stars? With the show over for him, he has a lot of other things to focus on, like his fiancée Vanessa Grimaldi and his upcoming men's grooming line, the Polished Gent, but even if the elimination surprised the former Bachelor, he still learned a lot from the experience.
In his exit interview, so to speak, with Good Morning America, Viall said that even though it's sad to walk away from DWTS now, he got the chance to get out of his comfort zone and try something new, which he seemed totally grateful for. "It is just dancing, but to be comfortable with that idea is something that I think is useful in life," he stated. He also officially gave his input on who he thinks will win this season and apparently his money is on Rashad Jennings. Good choice, Viall.
Immediately following his elimination on DWTS, Viall spoke to E! News and admitted that he and pro partner Peta Murgatroyd did hope to last at least a bit longer than they did on the show. "I think Peta and I were sort of hoping to squeeze in one more week," he said. "Now that it's over, it's sad. I had such an amazing time with Peta, she's a fantastic partner, we had fun all the time. It's definitely a bummer to see it end."
After their Argentine tango Monday night to David Guetta's "Dangerous," Viall and Murgatroyd earned a combine score of 34/40 from the judges, who had become increasingly proud of the dancer Viall had become over the past several weeks. Even so, it wasn't enough to keep them in the running and at the end of the night, along with fellow contestant Nancy Kerrigan, Viall was eliminated.
But now that DWTS is over for Viall, he intends to use the opportunity to live life a little more calmly. He recently told Life & Style magazine, "My time in reality TV is probably done. No helicopter rides, no bungee jumping, no scuba diving." After looking for love on Bachelor Nation shows four different times and finally ending Season 21 of The Bachelor with an engagement, it's probably best for his reality TV life to be over, or at least take a hiatus. Viall also told the magazine that now that DWTS is over for him, he plans to use the time to relax with Grimaldi and enjoyed engaged life together.
I want to believe his sentiments so badly, but this is the guy who has been consistently appearing on the small reality screen for several years now. He might be taking a break, but I can't quite believe that he's gone from reality TV for good. I suppose only time will tell.