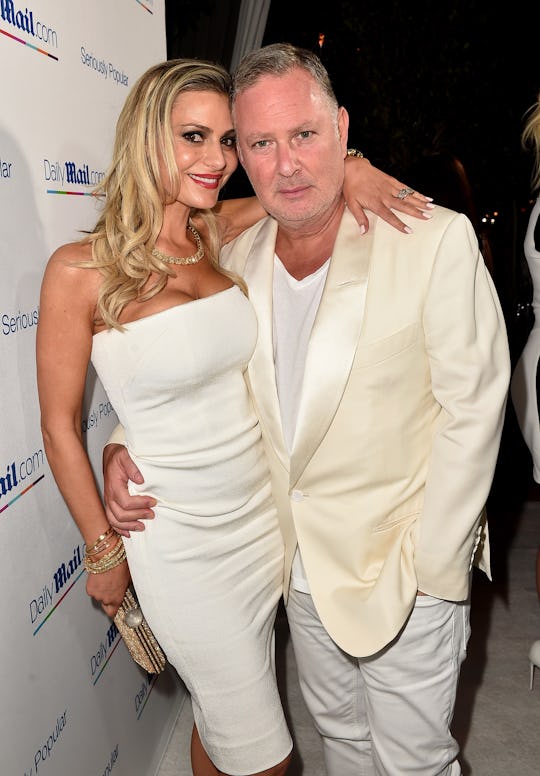 Alberto E. Rodriguez/Getty Images Entertainment/Getty Images
What Does Paul Kemsley Do? 'The Real Housewives Of Beverly Hills' Husband Is Well Known
Shows like The Real Housewives Of Beverly Hills might be mostly about the rich, influential wives and the drama they stir up, but there are always those husbands sitting idly by, awkwardly watching it all and waiting for the drama to subside. And even though Dorit Kemsley and her husband Paul are new to RHOBH, Dorit is already proving to fit right in. But what does Paul Kemsley do? The Real Housewives Of Beverly Hills husband is yet another millionaire business mogul on a Real Housewives show, but his profession isn't about stocks, bonds, and other words that might put you to sleep.
Paul, or "PK" if you will, runs Nixxi Entertainment, a talent management agency, with Dorit. In fact, one of his more important clients, Boy George — who is also godfather to their baby girl Phoenix — actually lives in the couple's Beverly Hills mansion with them. (I know. Pretty awesome, right?) Another client, Brazilian soccer legend Pelé, is also close to the family. But, as to be expected, that's not all PK does. He's also a land developer, and it's that business which kind of launched him into the businessman he is today, even if these days he's more about rubbing elbows with celebrities and soccer stars.
Running Nixxi Entertainment with Dorit might be his most exciting business venture right now, but British-born PK also works in land development and real estate. In May of 2006, he purchased a block in London for £40 million ($50.8 million), which he sold five months later for a profit of £32 million ($40.6 million).
Working with millions of dollars in real estate isn't exactly surprising, since Dorit and PK have a huge household staff on RHOBH, which according to Dorit includes "Peggy, who's [the] baby nurse, Neila, Jagger's main nanny, and then I've got a few nannies for Jagger and Phoenix — to fill in — three full-time housekeepers, and Tiffany, who's my husband's assistant."
In 2010, PK also played an integral role in relaunching the New York Cosmos soccer league, but sold his rights at a profit and re-invested in Pelé and in representing him. These days, it seems like PK and Dorit are more about living a lavish lifestyle on the West Coast, as they run Nixxi Entertainment together and schmooze it up with fellow RHOBH stars like Dorit's friend Lisa Vanderpump. But based on everything we've seen so far, PK is also a family man first — an attribute I'm sure we'll see more of as the season progresses.