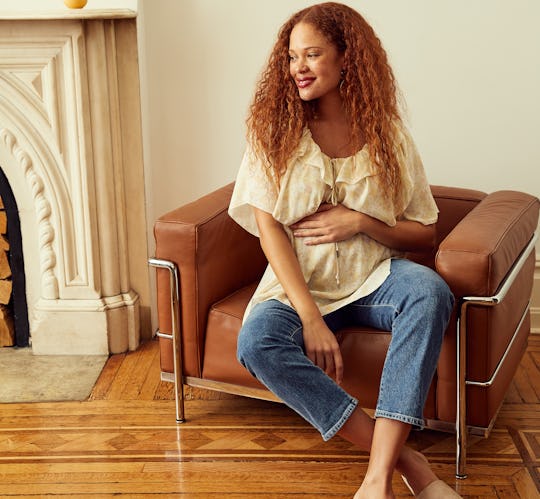 Courtesy of Rent The Runway
Rent The Runway's Maternity Service Will Save Pregnant Mamas So Much Money In The Long Run
The most frustrating thing about shopping for maternity clothes is knowing that after a few months, they might never get worn again. That's especially true when it comes to buying more expensive pieces, in the case of a special event, for example: Is it really worth it to shell out all that cash for a dress you're literally going to wear once? (Or should you just skip your college roommate's wedding?) Thanks to Rent the Runway's new maternity service, however, this age-old dilemma could be a thing of the past. But what does Rent The Runway's Maternity service cost? Depending on your needs, you have a few options.
Essentially, RTR Maternity works the same way as the non-maternity version, with a few added perks (more on those in a minute). There are three ways to rent, and each tier offers different benefits at corresponding prices. Let's say you work from home or in some other super casual environment and you can get away with living in yoga pants and a big t-shirt for nine months, except for a couple of commitments on your calendar that require you to look legit presentable. RTR Reserve is a commitment-free way to dress up your wardrobe: It allows you to "pay as you rent," with styles starting at just $30. Hold on to your dress for four to eight days, then ship it back, no strings attached (they even send a free backup size with every dress order, just in case!).
RTR Update is the next rental tier, and it's perfect for professionals or anyone else who wants to look fashionable more often than not. For $89 per month, you can choose four items to wear and return at the end up the month, when you repeat the process with four new pieces. RTR Unlimited is the next step up, and it's pretty much exactly what it sounds like: For $159 per month, you get four pieces on constant rotation that you can wear for as long as you want and swap anytime. Anytime!
There are other benefits that come with RTR Update and RTR Unlimited, too, particularly if you're going the maternity route. Subscription comes with the option of buying pieces at a special member discount, and if you sign up while you're pregnant, you also get complimentary access to an RTR maternity stylist and a $75 Rosie pope gift card. Plus, when you opt into maternity, you access a "hyper-personalized experience" which uses due-date data and an algorithm to recommend items based on your trimester and personal preferences. You'll even get suggestions for after the baby is born.
The potential savings here are huge, naturally, no matter which tier you choose. Just think of how much it would cost to actually go shopping and buy the same items! (Especially since maternity clothes never ever seem to go on sale.) Sure, you could always try to sell them after the baby is born, but chances are you won't get full price for your used clothing... and let's be honest, pregnant ladies tend to spill stuff on themselves sometimes. Stuff that stains. (Another amazing thing about RTR? They handle all the dry cleaning, and two-day shipping is included in the fee.) Take Shoshanna's Saya knit dress in navy (pictured below). This piece retails for $400, but you can rent it for just $70 with RTR Reserve (or just include it as one of your four pieces with the Reserve or Unlimited memberships).
That's a pretty substantial discount! As is this yellow Lita mini dress from M.i.h. Jeans, which retails for $225 but can be rented for just $40 with Reserve (or, again, included as one of your four pieces with the Reserve or Unlimited memberships).
Never mind how much it would cost to actually hire a personal stylist! Plus, RTR has thousands of maternity and "bump-friendly" choices from designers including Ingrid & Isabel, Rosie Pope, Vince, Isabella Oliver, Yumi Kim, Monrow, J Brand, Citizens of Humanity, and more. Good luck finding anything even close to that level of variety at an actual brick and mortar mall, or even the average online maternity clothing store.
Doesn't this whole thing make pregnancy even more exciting? Oh, and here's one more piece of incentive: Right now, if you sign up for the Unlimited package using the code RTRMOM, you'll get your first month for $99 instead of $159. Sweet!