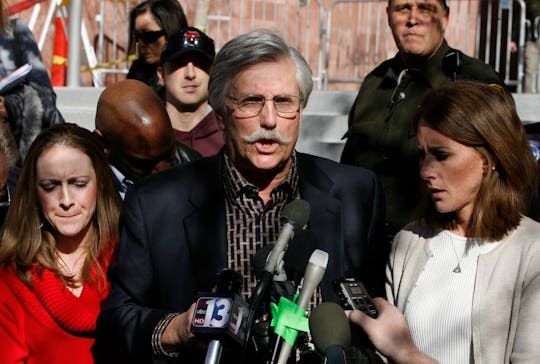 Pool/Getty Images News/Getty Images
What Does Ron Goldman's Family Think About OJ Simpson's Release? It's A Major Blow
After nine years in prison for armed robbery, O.J. Simpson was granted parole Thursday. The news generated lots of emotional responses, but the opinions that arguably counted most were those of the people most affected by Simpson's 1995 trial for the murder of Nicole Brown Simpson and Ron Goldman. Simpson was ultimately acquitted and found not guilty, but in the wake of the Nevada parole board's decision, what does Ron Goldman's family think about O.J. Simpson's release?
One of the most memorable and heartbreaking moments from the original criminal trial was Ron Goldman's family breaking down after the verdict was read acquitting Simpson in the killing of Goldman and Simpson's ex-wife, Nicole Brown Simpson. Goldman was a waiter at Mezzaluna, the restaurant where Nicole had dinner with her children on June 12, 1994. Nicole and Goldman were were both found knifed to death in front of Nicole's house later that evening. Authorities believed that Goldman was returning a pair of glasses that Nicole's mother had left at the restaurant. The prosecution's theory was that Nicole was the target of the murder, and Goldman was simply in the wrong place at the wrong time.
After the criminal trial, the Goldman family brought a wrongful death suit against Simpson and won, though they later said the victory "left us very empty." They maintain the belief that Simpson killed Ron, so they were not looking forward to Thursday's parole hearing. Simpson has been in prison for almost 10 years for stealing memorabilia he believed belonged to him from a Las Vegas hotel room in 2007.
In advance of Simpson's parole hearing, Ron's father, Fred Goldman, and his sister, Kim Goldman, appeared on ABC's Good Morning America to talk about it. Both said they didn't ever foresee Ron's killer being brought to justice. "We'll never get to share [Ron's] life, and the killer will walk free and get to do whatever he wants," Kim said. She and her father added that they will continue their attempts to deprive Simpson of any and all monetary gain beyond his NFL pension, which cannot be taken from him and could amount to as much as $100,000 a year, according to CNN Money.
The Goldman family has yet to publicly respond to the news of Simpson's parole, but in light of their past statements, their reaction isn't hard to guess.
"What's troubling to me is not only him, but the whole system gives second chances to violent felons or, for that matter, anyone in jail," Fred told anchor George Stephanopoulos Thursday morning. "Ron doesn't get a second chance."