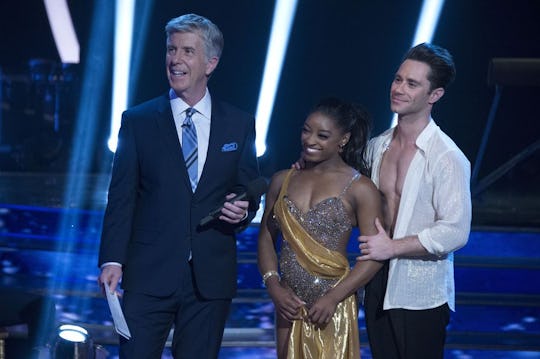 Eric McCandless/ABC
Simone Biles Speaks Out About That Shocking 'DWTS' Elimination
Even though some fans may still be reeling from the shock of Simone Biles' elimination during semi-finals week, the Olympic gold medalist has been able to bounce back and look back on her experience with an open mind. But when it all comes down to it, what does Simone Biles think about Dancing With the Stars? Her elimination definitely blind-sided many of her fans. Biles, on the other hand, apparently looks at her elimination from DWTS as a good thing and, as to be expected from the ever optimistic competitor, she seems to look back on her time on the show with gratitude and honesty.
She told HollywoodLife.com that she's actually excited now for the time off to relax and enjoy herself. "I've been going non-stop since the Olympics and I feel like I couldn't ask for more, what Sasha has done for me this whole entire season. I found out a lot about myself," Biles said. "I am going to take time off and take some vacations and spend some family time and friend time."
She also posted a photo of her and pro partner Sasha Farber during one of their routines with the caption, "Can't thank you enough @sashafarber1 for all you've done. this journey has truly been life changing and I wouldn't want to do it with any other person. also big thanks to everyone who supported #teamgoldengiggles throughout this season. you'll be stuck having me text & call you beyond this show SORRY. thank you @dancingabc for this opportunity!" Pretty sweet, right?
On another photo, Biles called her experience on DWTS "indescribable," so it's safe to say that despite missing out on that Mirror ball trophy, she still had a good time along the way. Even so, mostly everyone was incredibly shocked after Biles' elimination on DWTS, including the judges and Biles herself.
In an interview with Good Morning America, she said that in the moment, she still didn't quite believe it. She said that when her name was called, she "thought they were going to pull a Steve Harvey on us" and may have called out the wrong eliminated contestant, but it was very real.
In response to the way she was judged, Biles did comment that it didn't seem entirely fair every time each contestant was judged. "At times I think the expectations were each a little bit different for each contestant," Biles admitted on Good Morning America. "I feel like they wanted me to pick up where [Laurie Hernandez] left off, which is very hard because we're two different people."
After host Tom Bergeron asked her why she wasn't smiling at the judges' critiques, Biles had replied, "Smiling doesn't win you gold medals," which may or may have not cost her votes that could have helped her stay on in the end if people found her remark to be rude. (Though personally, I thought it was pretty awesome and something she had every right to say.)
In the end, though, Biles said she still "had an amazing time on the show, and it was exciting." After watching her pull in perfect scores all night, it was hard to watch her leave DWTS, but if she can remain positive about the experience, then fans can only support that.