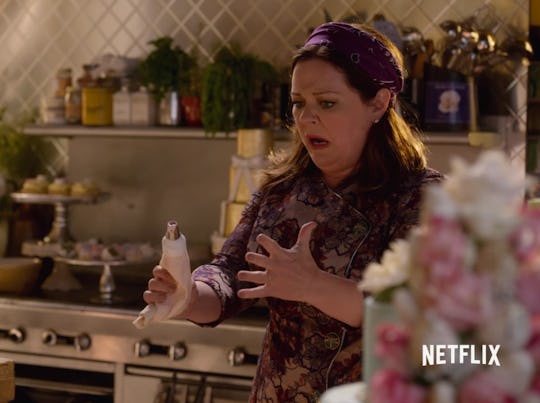 Warner Bros.
What 'Gilmore Girls' Revival Episode Is Sookie In? Viewers Will Have To Be Patient
(Warning: This post contains spoilers from Episode 4 of the Gilmore Girls revival.) Although it took a little longer to get the confirmation that Melissa McCarthy would be returning to Gilmore Girls as Sookie, it was finally revealed that she would be back, but only for one scene. And although it's pretty awful to think that Sookie would only return for one scene, it never stopped fans from asking: what Gilmore Girls revival episode is Sookie in? Now, in a perfect world, she would be in every other episode and basically like a third Gilmore girl, but in this case, the four part series is burying the lead.
The Gilmore Girls revival began with vague mentions of Sookie, without any of that awkward avoidance of the fact that the show is without a main character. But of course they had to drag out the return of Sookie on the Gilmore Girls revival, because giving viewers her scene right away would just be no fun. As arguably one of the bigger actors to come out of the show, McCarthy's return is one that has been anticipated by a lot of fans, but what Gilmore Girls revival episode is Sookie in? Unfortunately, fans are going to have to wait until Episode 4 to see Sookie again.
The wait is totally worth it and her re-introduction into the Gilmore Girls world though, and seeing Sookie reunited in the show that sparked this amazing on-screen friendship proved that the actors have amazing chemistry. You would never guess that it had been almost a decade since either of them had portrayed their Gilmore Girls characters.
In the trailer for the Gilmore Girls revival that showed a scene of Sookie, viewers saw her in a kitchen, presumably decorating cakes, with a tube of frosting in her hand. But anyone who decided to binge on the four part series right away knows that this scene is somehow still absent by the time Episode 4 rolls around.
Creator Amy Sherman-Palladino told TVLine that since they would only get to have McCarthy for one day of shooting that they had intended to make her scene count and Sookie's scene on the Gilmore Girls revival is definitely worth the wait of the first three parts of the Netflix continuation. Could they have tried a little harder to get in more than one scene for the funny BFF of Lorelai? Absolutely. But is it better than nothing at all? Of course.