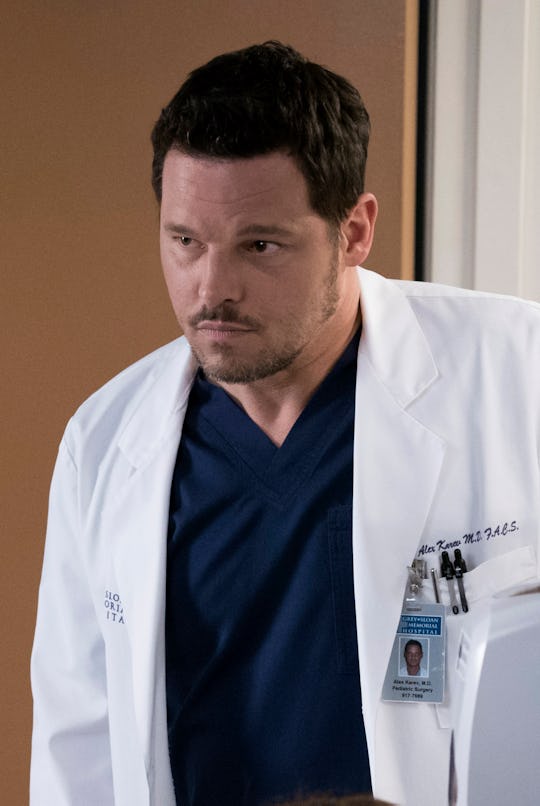 Eric McCandless/ABC
Alex Could Be In For More Heartache On 'Grey's Anatomy'
For a while now, Grey's Anatomy fans have wondered about Alex and his background with his family. What we do know is that as a kid, he bounced around between foster homes while also dealing with an abusive dad and schizophrenic mom, but there have only been snippets here and there without a whole lot else revealed and Thursday's episode is about to delve deeper into that relationship when he visits her. But what happened to Alex's mom on Grey's Anatomy?
In the promo for Episode 22 "Fight For Your Mind," Alex and Jo pull up to his mom's house with the voiceover saying, "A journey home brings a shocking truth." Now, that could just be the most dramatic red herring ever since this is Grey's Anatomy, after all, but then again, it could mean that the reason for Alex's mom not cashing his monthly checks for so long is because she died.
Deadline announced back in April that actress Lindsay Wagner was cast to play Alex's mom in the episode, so in a way, that does eliminate the possibility that she died and that's what Alex saw when he looked in the window of her house. Then again, Alex's mom could just be part of flashbacks, much like the March 15 episode that showed him as a young child trying to take care of her. But because I choose to believe that something good will happen to Alex for once and that it's hard to truly trust a Grey's promo, if someone is set to play her, then she might not be dead.
In the promo, Alex is shown looking extremely upset after looking into his mom's house, though, there are a number of reasons why she cut herself off from her son's financial help. She might have moved away without telling him and that house is, well, no longer her home. But the reason for moving away could have been that she's been doing well for herself and wanted a chance to start over somewhere new. I know, it's a long shot, especially since Alex's memory of her is shrouded in difficulties, but it's a much nicer alternative than Alex's mom being dead, especially for a time like this in his life when he should be focusing on his impending wedding with Jo.
Speaking of Jo, Redditor bluesapphire33 theorized that Jo could be the key to helping Alex work things out with his mom in the coming episode and not only strengthen their bond before their wedding, but also help Alex work through his family issues a little more in the process. According to the theory, Alex's mom may have gone off her medication again, leading Alex to fight with her out of concern and frustration. Then, Jo intervenes and inadvertently helps Alex's mom open up to him and assure him that he'll be a better husband and father than his own dad was. The Redditor's theory also says that this could lead to Jo realizing she's pregnant by the season finale, which I don't doubt and I honestly hope for, but I'm not so sure that Alex is going to get closure from his family issues, an amazing wedding, and the promise of a baby without a little more heartache thrown in there.
Because of everything Alex has already been through with past relationships, almost losing his license to practice medicine, and not being able to work things out with his latest patient, Kimmy, I don't see the Grey's Anatomy writers adding the loss of his mom on top of all of that, even if the promo does make it seem that way.
Regardless, Alex's mom will probably be a way to help him work through any lingering issues he might have before the season finale and his upcoming nuptials.
Check out Romper's new video series, Romper's Doula Diaries:
Watch full episodes of Romper's Doula Diaries on Facebook Watch.