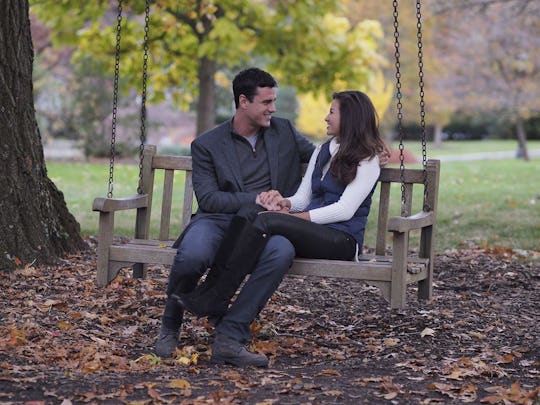 ABC/Scott Evans
What Happened To Caila On 'The Bachelor'? She Almost Made It To The Final Two
When the seasons begin on shows like The Bachelor and The Bachelorette, there is plenty of comedy with the different outlandish contestants that verge on completely strange. But as the season goes on, things get more serious and you start to see real connections happen. On Ben Higgins' season of The Bachelor, we saw a real relationship between Caila and Ben develop. Unfortunately, it ended abruptly. But what happened to Caila on The Bachelor? She was in love, one might say intensely so, and made it past the hometown dates, through the fantasy suite excursions, and almost to the final two. But in week 9, Ben Higgins let her go, breaking her heart, and America's in the process.
In the time since The Bachelor, Caila Quinn has been doing her own thing, making a huge move from Boston to New York City, and running an inspirational blog while teaching a Bollywood-inspired fitness class. But her experiences with The Bachelor are likely what landed her on Season 3 of Bachelor in Paradise, because after all that she went through, she definitely deserves another chance at love within Bachelor Nation. Whether or not she's going to actually find that love is anyone's guess, since the competition this season is kind of fierce, but we all know she has a lot to offer.
So what happened to Caila on The Bachelor?
Caila Took Some Time To Open Up To Ben
This might be because Caila allegedly broke up with her boyfriend back home after seeing Ben on Season 11 of The Bachelorette. So when she was selected as a contestant for Season 20 of The Bachelor, Caila was fresh out of a long-term relationship, eager to met Ben but not as eager to let down her wall of bubbly cheeriness and open up just yet.
She Told Ben She Loved Him
And he didn't say it back. Granted, it was Episode 6 when Caila said that she felt like she loved him, so it was relatively early, but not totally off the cuff. And while this should have been great that Caila was opening up, it led to more strained conversations about being able to give herself over to another serious relationship.
She Opted To Have A Fantasy Suite Date With Ben
No one really says no to the fantasy suite dates on The Bachelor and The Bachelorette, so it wasn't a huge surprise when Caila agreed to, ahem, do it with Ben on The Bachelor. And while it should have helped solidify their bond and budding relationship, it obviously wasn't meant to be. The following day, Ben met with Caila again and told her that while he had strong feelings for her, he didn't love her, as he was falling in love with JoJo and Lauren.
He Didn't Feel As Strongly About Her As The Other Remaining Women
Like I said, Ben kind of dropped the ball with the timing of letting Caila go. Call it coincidence or call it a jerk move on Ben's part, but after their fantasy suite date, Ben told Caila that he didn't feel strong enough feelings for her to have her stay. Understandably, Caila was kind of crushed. And when he sent her away in the SUV after breaking it off with her, she did stop and get out, seemingly to confront him about when he knew he would be sending her home. I.e., before or after he invited her for their fantasy suite date.
She Was Almost The Next Bachelorette
Produces allegedly had their eyes set on Caila Quinn to be the next Bachelorette, but in the end, JoJo's story after being dumped by Ben and being told that he loved her struck a stronger cord with them. They instead gave the official offer to JoJo, who obviously accepted the second chance to find love on The Bachelorette.
Caila may have been sent home before making it to the final two on The Bachelor and may have lost out on her chance to be the next Bachelorette, but she's getting a second chance at Bachelor Nation love regardless on Season 3 of Bachelor in Paradise.