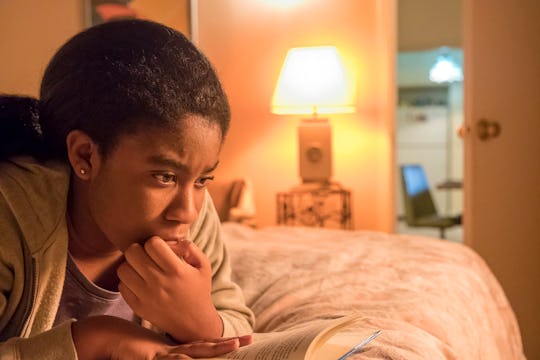 Ron Batzdorff/NBC
'This Is Us' Will Use Flashbacks To Help Explain Deja's Backstory
One thing you can never accuse This Is Us of is dropping storylines or forgetting important details that draw fans in. When it comes to Deja's story, that's also true, since she seems to have come back into Beth and Randall's life, even though she went back home to her mother earlier in the season. But now that she's back, fans are probably wondering, what happened to Deja on This Is Us? Luckily, flashbacks will help show viewers her journey and what life was like for her when she went home up until her phone call to Beth asking for money to help pay the gas bill.
In the penultimate episode of Season 3, This Is Us will take viewers on a 12-year-long journey from Deja's childhood up until present day while also somehow intersecting important moments of her life with those of the different members of the Pearson family. "We're doing an episode where we step away from our Pearsons and tell this story from beginning to end of Deja and what led to her coming into Randall [Sterling K. Brown] and Beth [Susan Kelechi Watson] and the girls' lives," executive producer Isaac Aptaker told Entertainment Weekly.
But instead of just showing Deja's life directly before she came to live with the Pearsons, viewers will see her story from the very beginning.
"We're going to see how it's a really complicated relationship [between Deja and her mother] where there's a lot of love, but also a lot of angst," he told the outlet. "We're going to see how Linda [the social worker] came into the picture." He likened the episode to those of the Big Three episodes that ended the first half of Season 2, in that Deja's story will "intersect in very cool ways with the story as we know it — and we'll see where characters were when moments we've seen were happening."
So far, what we know of Deja's life is pretty minimal. We know that she'd already been in foster care before she went to Beth and Randall's home and that her home life has never really been great. But somehow Deja and her mom have managed to remain close and maintain a special bond, so there's got to be something there that keeps them close. Somehow things went from Deja living with her mom again, to money problems, to living out of their car, which might not the first time they've had to resort to that. The Deja flashbacks on This Is Us will likely explain all of that for fans, and just in time, as the season draws to a close.
It's also very telling that Deja called Beth and Randall with the knowledge of the gas bill being past due and her mother's financial troubles in general. For a 12-year-old girl to know about any of that shows that she's had to do a lot of growing up fast and her flashbacks will likely show more of her upbringing to help explain how she and her mom got to this point. The good news is that some of the characters could see happier times by the end of the season.
"I think there's a real excitement for the places these characters can get to in season three," Aptaker told The Hollywood Reporter, and for Kevin and Kate specifically, though I wouldn't doubt that there will be some notes of hopefulness for Deja as well. "And then there's a couple moments at the end of the [finale] that are definitely 'whoa' moments that I can't talk about at all, unfortunately, but are going to get people very excited for what's next."
The Deja-centric episode, which is the final episode before the This Is Us Season 2 finale, is sure to bring the feels like literally every other episode of the series, but it will also help viewers get to know the young girl even better. And this is just the hopeful This Is Us fangirl in me, but maybe it will even set things up for making her more of a permanent fixture on the show moving forward.
Check out Romper's new video series, Romper's Doula Diaries:
Watch full episodes of Romper's Doula Diaries on Facebook Watch.