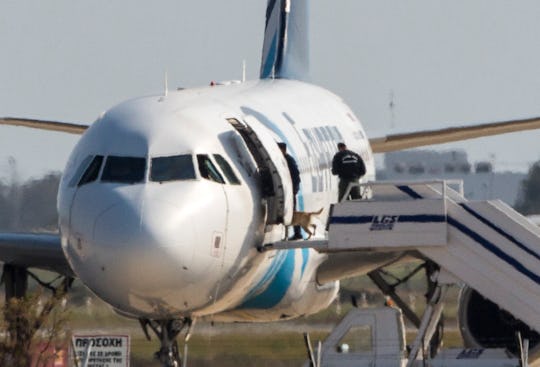 BEHROUZ MEHRI/AFP/Getty Images
What Happened To Egypt Air Flight MS804? It Disappeared From Radar On The Way To Cairo
An EgyptAir commercial liner traveling from Paris to Cairo Wednesday evening disappeared from radar with at least 66 people on board, according to a BBC News report. The plane fell off of radar minutes before it was due to arrive at the Egyptian capital, just shortly after leaving Greek airspace, according to that report. With little details currently known about what happened to EgyptAir flight MS804, Egyptian and Greek officials are leading a massive search-and-rescue operation in the Mediterranean sea, with additional rescue boats and resources promised from the French government.
According to CNN, after a series of uneventful, routine conversations with the flight crew, Greek air traffic controllers attempted a final check in with the pilots about ten minutes after the flight left Greek air space, but they got no response. According to that same report, radar data had confirmed that shortly after losing contact, the plane swerved violently to the left and right, then then plunged some 27,000 feet into the Mediterranean Sea.
Whether the plane's disappearance was due to a mechanical failure, atmospheric conditions, or human error has yet to be determined, government officials have not yet ruled out the possibility that it was an act of terrorism.
French leaders said that they were "keeping an open mind" about possible causes of the crash, according to the BBC report. "We will draw conclusions when we have the truth about what happened," said French President Francois Hollande. "Whether it was an accident, or whether it was — and it's something that is on our minds — terrorism."
EgyptAir has had a troubled history and several serious incidents involving hijackings and terrorism on its flights recently. In March, a distressed man diverted an EgyptAir flight to Cyprus while wearing a supposed "suicide belt." The suspected hijacker turned out to be unarmed and eventually released all the hostages aboard unharmed. And just last fall, an EgyptAir flight headed to Russia exploded midair, killing all 224 passengers aboard the flight. In that incident, the Islamic State took credit for planting a bomb aboard the commercial jetliner, though Egyptian officials continue to say the plane crashed due to mechanical failures, according to BBC News.
The passengers and crew aboard flight MS804 hailed from more than a dozen countries, including Canada and Britain, CNN reported. However, the majority of people aboard the flight were French or Egyptian. And while officials continue to investigate possible causes behind the plane's disappearance, finding possible survivors is the highest priority for search and rescue teams.
For now, hundreds of members of passengers' families are waiting in the Cairo airport for news of their loved ones and more information from aviation officials.