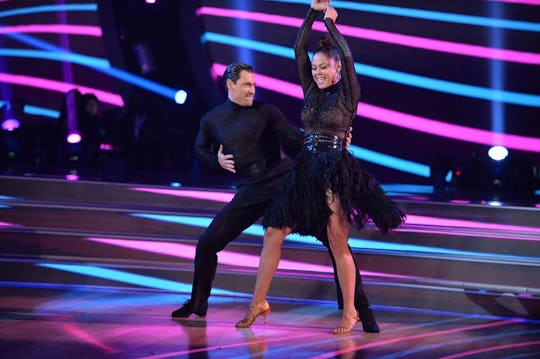 Eric McCandless/ABC
Vanessa Lachey Suffered An Injury On 'Dancing With The Stars'
During Dancing With the Stars rehearsals, anything could go wrong and since the performances are live each week, there's not much than can be done without scrambling around in the hours and days before the next episode. So when Vanessa Lachey got hurt during rehearsals Friday, it could have been pretty bad. But what happened to Vanessa Lachey on Dancing With the Stars? An injury isn't going to slow her down for long, but it's also an indication that anything can happen this season that's well out of the contestants' control.
According to People, during a Friday rehearsal, Lachey was dancing with pro partner Maks Chmerkovskiy when her foot sort of twisted during a move and her toe, while laced up in some pretty amazing heels, was injured. The extent of Lachey's injury on DWTS doesn't seem to be too severe and right now it's being referred to as just that — and injury, rather than a sprain or break, but there was definitely blood and it really could have happened to anyone.
On Chmerkovskiy's Instagram, he posted a video from the pair's rehearsal and added a caption in full support of his partner: "I guess after childbirth what's a little piece of meat and half of toe nail hanging out of off the tip of your big toe while you're running out of time trying to prepare two dances for Monday and Tuesday on @dancingabc? [She put on her shoes five minutes later and we kept running the dance]."
Since Lachey was able to get right back into their rehearsal, she's more than likely going to be OK, but this definitely isn't the first time someone on DWTS sustained an injury so early in the season. In fact, fellow Season 25 DWTS contestant Drew Scott just sustained an injury during his Sunday rehearsal with pro partner Emma Slater. During their rehearsal, Scott suddenly stopped dancing and grabbed his thigh while saying, "It felt like a knot popped in my hamstring. Oh man. It felt like a snap kind of." His injury isn't likely very serious, as it looks like he and Slater will still be performing on DWTS Monday night, but it just goes to show that injuries among the contestants and pros happen quite often.
And just last season, Chmerkovskiy injured his calf while rehearsing for Week 2 with partner Heather Morris and while he was able to return after Week 5, it was still an injury early on in the season, much like Lachey's, though unlike Chmerkovskiy, it doesn't look like she'll be needing surgery anytime soon.
Lachey's toe injury on DWTS isn't one that's uncommon among even the most experienced dancers. According to Podiatry Today, toe injuries and discomfort are typical for most professional dancers and "Pressure can create a blister, corn or even a small ulcer on toes and joints. Wearing the pointe shoe or other tight dance shoes can be excruciating." So if you factor in that Lachey is new to this much dancing and choreography, it makes sense for her injury to have happened while wearing the shoes needed for her live performance.
Most dancers are subject to a variety of toenail issues when it comes to long periods of dancing with their feet crammed into tight-fitting, sweaty shoes. From toenail fungus to ingrown toenails and toenail bruising, none of these are really uncommon for dancers, and when it comes to the long DWTS rehearsals, it makes sense for Lachey to have injured her toe. But thankfully, it doesn't look like it was anything worse than an injury that will heal over time.
Since Lachey mentioned on Instagram that despite her "big toe," fans would be able to see her and Chmerkovskiy perform on DWTS Monday night, it doesn't look like the injury is going to be slowing her down anytime soon.
Watch Romper's new video series, Romper's Doula Diaries:
Check out the entire Romper's Doula Diaries series and other videos on Facebook and the Bustle app across Apple TV, Roku, and Amazon Fire TV.