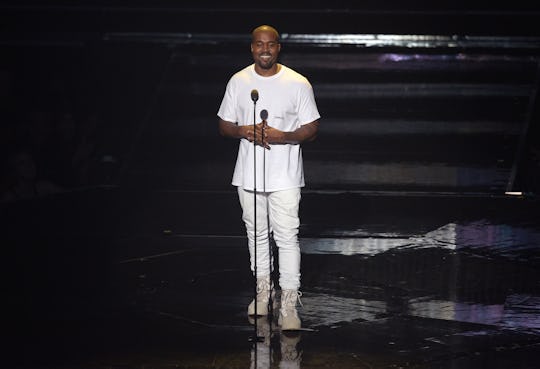 Jason Kempin/Getty Images Entertainment/Getty Images
Here's What Kanye West Reportedly Thinks Of Surrogacy
In July, reports broke that Kim Kardashian and Kanye West were expecting their third child via a surrogate. The news was somewhat of a surprise given Kardashian's initial hesitancy to pursue surrogacy, and fans watched her grapple with the major decision on past episodes of Keeping Up With The Kardashians. Given Kardashian's longstanding transparency on the topic, fans are now wondering what Kanye West has said about surrogacy throughout the years. It turns out West wasn't always on board with the process, although he has since changed his mind, according to Hollywood Life.
If you know anything about West, you know that he's very guarded when it comes to his loved ones. According to reports, West didn't initially approve of surrogacy due to privacy concerns. A source said, according to Hollywood Life:
It is a real challenge for Kanye to trust anyone, so the situation is causing major tension between Kim and Kanye. But he's being supportive despite his major fears about using a surrogate for their next baby.
Given the intensity of West and Kardashian's celebrity, it would make sense for West to be distrusting at times. And it's not hard to imagine Kardashian's Paris robbery incident in October compounded West's fears about trusting another person with their third child.
Despite West's initial issues with surrogacy, however, he ultimately decided to go ahead with the process. The source said, according to Hollywood Life:
Kanye is trying to keep an open mind about their goals are and how they plan to grow their family together. Despite being tense over the surrogacy plan and very stressed about trusting someone, Kanye can't say no to Kim, so he has reluctantly agreed to move forward with the process.
West's trust issues aside, it's clear he ultimately wanted what was best for Kardashian's health. As Kardashian fans know, she struggled with fertility issues after developing placenta accreta while pregnant with her daughter North West. Following a risky surgery to resolve the issue, Kardashian was disappointed to learn that it wasn't something she could really "recover" from, and that having another child herself could be incredibly dangerous. Despite some initial upset at the news, West and Kardashian both realized surrogacy was the only realistic option for conceiving their third child. On an episode of Keeping Up With The Kardashians, Kardashian said, according to People Magazine:
After everything I went through, the surgery wasn't successful and didn't do anything. Kanye was really nervous about the surgery... but I know he would want to have more kids. I feel like surrogacy is the only option for me. Kanye and I are going to look into other options and see what we are comfortable with. I'm definitely leaning towards I want to try [surrogacy]... I always knew surrogacy was an option, now it's my reality. Whatever is meant to be will be.
Surrogacy is not the right path for every parent struggling with fertility and pregnancy health issues. It's a deeply personal decision that requires a lot of care and consideration (and money, if you're pursuing surrogacy), and it's clear that West and Kardashian did a lot of research into the process before taking the next step forward. Although West reportedly wasn't 100 percent sure about surrogacy at the beginning, he ultimately made the best decision for Kardashian's health and well-being.