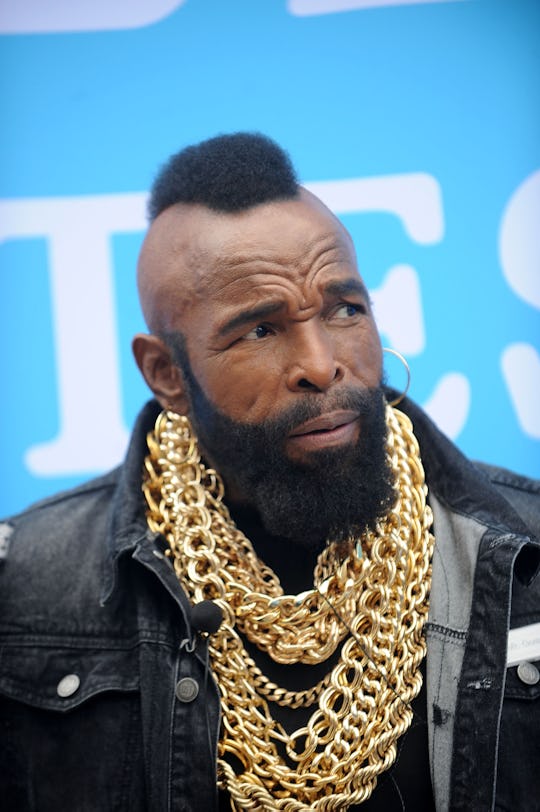 Brad Barket/Getty Images Entertainment/Getty Images
Mr. T Has Been Keeping Busy Prior To 'DWTS'
Each season of Dancing With the Stars brings the kind of celebrities together that you either used to love or suddenly find yourself with a newfound love for. So, of course, Mr. T has to be among the cast of Season 24 of Dancing With the Stars. But since not everyone has followed the cast of The A-Team since it went off the air in the '80s, what has Mr. T been up to? Dancing With the Stars will be a change of pace for the typically rough persona he's built up over the years, but can you imagine him in some of those outfits?
That alone will make fans want to keep him around this season. Mr. T, born Laurence Tureaud, perfected his character of Mr. T when he co-starred on the 1983 action movie Penitentiary II and much like any '80s character or character actor, the persona kind of stuck with him. And, actually, he's been getting steady work as Mr. T for the duration of his career, including voice work.
Whether he's been Mr. T while fighting for the WWF (now WWE) or lending his voice to The Simpsons or the 2009 animated movie Cloudy with a Chance of Meatballs, Mr. T has never really gone away.
Lately, Mr. T has been back at wrestling and even appeared at Wrestlemania XXX in 2015. Obviously his biggest upcoming role (and biggest surprise) will be as a competitor on Season 24 of DWTS. And OK, so that's not exactly a role, per se, but the actor will be pushing his body to new limits in the form of choreographed dancing as opposed to choreographed wrestling moves.
Mr. T has been paired with Kym Herjavec, who placed first in Season 9 and 12 of DWTS, so he's definitely in capable hands. And, according to Closer Weekly, Mr. T isn't the least bit worried about the upcoming season. "Mr. T ain't worried about nothing," he stated. "Them fools better be worried about us!" He's also reportedly donating the proceeds of his winnings, should he end up in first place, to St. Jude's Children's Research Hospital.
Mr. T, 64, has been pushing his body to its limits in his career for the past few decades, so the physical part of the competition probably won't deter him in the slightest. But since he's never taken on any similar dance competition spots in his career, it's definitely going to be a learning process. And lately, the actor is all about motivation and positivity, which are sure to go a long way on the show.
I know I can't be the only one who reads Mr. T's tweets in his "pity the fool" voice, right? Season 24 of DWTS premieres on Monday, March 20 at 8 p.m. on ABC.