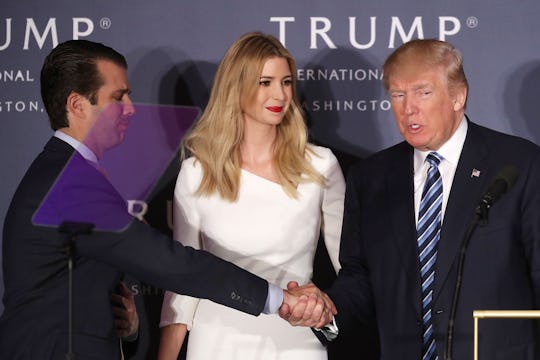 Chip Somodevilla/Getty Images News/Getty Images
Trump Reportedly Considering Using A "Half-blind" Trust
Soon after Donald Trump was unexpectedly voted president-elect, he came under a flurry of criticism for the potential conflicts of interests his sprawling international business empire would undoubtedly present — and the laughable idea that his relinquishing control of the more than 500 businesses to his adult children in a "blind trust" would assuage that concern. Since then, he's canceled a press conference to outline his plans to address this in detail, announcing that his adult sons would run his lucrative global real estate endeavors. Now, Politico is reporting that either Trump, his family members, or his Cabinet appointees are exploring transferring business assets into a "half-blind" trust, a setup that, if Trump were to choose it, would excuse him from legal accountability while maintaining financial gains from and knowledge of how his businesses are faring.
The president-elect's earlier pledge to turn over the multifaceted businesses that include hotels around the world, a winery, and a modeling agency to Donald Jr., Ivanka, and Eric attracted scorn from both sides of the political aisle because Trump's proximity to his kids ensures that the arrangement would not present a true blind trust. After the cancellation of the scheduled Dec. 15 press conference, the news that Trump's team is discussing with the Office of Governmental Ethics the possibility to employ a discretionary trust, is similarly raising eyebrows. The Trump team did not immediately respond to Romper's request for comment about whether it is considering such a solution.
If it is, in fact, the president-elect who is considering putting his assets into a "half-blind" trust, the move will do little to convince critics that he is working to separate his personal fortune from the task of running the country.
Simply put, a blind trust differs from a discretionary, or "half-blind" one, in some significant and important ways. The ethically agreed-upon conditions of a blind trust dictate that an institutional financial manager take over the incoming official's investments, selling off the assets over time without ever discussing the process with the official. A half-blind trust, on the other hand, grants the official the benefits of maintaining the investments with minimal disturbance and allows the conflicts to "magically disappear," as Politico's Josh Gerstein explains:
... The assets are held in a trust that is often overseen by a family member who can, but is not legally required to, send revenues from the assets to the government official. Another benefit: there's no explicit prohibition on the official talking with the trustee about the financial holdings.
This, of course, is concerning because of the access it could give the soon-to-be president to both decisions that could benefit him and his family financially, and the ability to use power of this office to enrich himself at the expense or the disregard of the American people. After all, when the the person in charge has as many conflicts of interest as Trump does and is reluctant to fully separate himself from them, questions over his loyalties will invariably arise — regardless of what is truly going on behind the scenes.
Past presidents have readily taken measures to adhere to the conflicts of interest laws to which their fellow government officials are subject, even though presidents and their veeps are not. Presidents Bill Clinton and George W. Bush both used blind trusts while in office, according to Forbes. But Trump will be the wealthiest president ever to inhabit the Oval Office, as well as arguably the most unpredictable and nontraditional.
In order for Trump to be be allowed to employ a "half-blind" trust, if that is indeed what he is planning, he'd have to earn the approval of the Office of Governmental Ethics. Considering that an appointee of President Obama will run the office until 2018 and that experts consider the arrangement to be "highly inappropriate" makes this outcome unlikely.
"To have someone baby-sit your conflict-creating assets while you go around and do whatever you want, in my view that's a violation of at least the spirit of the rules and that's an abuse," former ethics lawyer Richard Painter told Politico.
Still, the questions of how and whether Trump's vast business empire will interfere with his ability to govern will persist until he provides some definitive and reassuring answers and solutions — and likely throughout his presidency, as well.