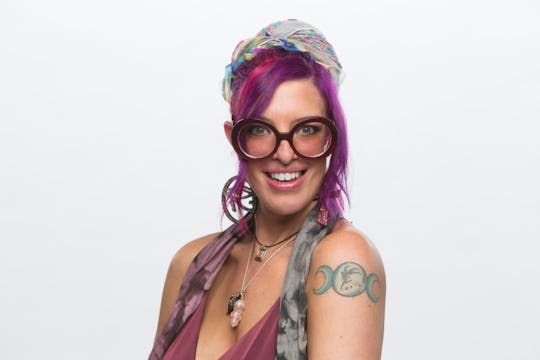 Sonja Flemming/CBS
Get a Peak at Angie Lantry's Life Before 'Big Brother'
The beauty of Big Brother (other than being able to spy on a group of strangers at all times all summer) is getting to see people from all walks of life work together and against each other toward the same goal. Angie "Rockstar" Lantry is easily one of the more unique and quirky contestants this season, but to really know her, you probably need to peruse Angie Lantry's Instagram before Big Brother. She's definitely not afraid to be herself, which is amazing and refreshing in some ways, but at this time, it looks like her Instagram is still private.
This could change once the season officially begins, as these things sometimes tend to do. On the other hand perhaps Instagram was never a big thing for the stay-at-home mom and she's more active on other forms of social media. Just in case you want to send a follow request, Angie's Instagram handle is angelamfnrockstar and in her bio, she describes herself as a "witchy rainbow loving mama" who loves "magick, rainbows, tribe, [and] beauty of life."
Judging by the sort of content on Angie's Facebook page, you can guess that her Instagram is probably full of similar photos — including pics from faerie festivals and of her children. Angie's Twitter account is also full of tweets and shares that speak volumes about her personality — even though her Instagram is still, sadly, private. I mean, don't these Big Brother houseguests realize that all we have is internet sleuthing until the season begins and live feeds start up?
Angie also has a blog titled Witchy Mama, which she last updated in March after she gave birth to her third child. The blog is all about co-parenting with her ex-husband and raising her children along with her step-son with her new partner. And, as to be expected with Angie, there are also a ton of festival photos. It seems like these are the kinds of things she lives for. For this reason Angie looks like a uniquely interesting houseguest this season, as opposed to another social media personality in the making.
Since Angie's Instagram bio and even her LinkedIn profile claim that she was voted as Baltimore's best local celebrity in 2013 and 2014, she probably enjoys a certain amount of attention. But also being a mom, it can be a little nerve-wracking to have public social media accounts with baby photos plastered all over them for the world to see, so having a private Instagram — at least for now — is totally understandable. Depending on how far she gets this season, someone back home could make her Instagram public for her soon-to-be fans to see, but only time will tell once the cameras start rolling for viewers.
She definitely feels like a free spirit sort of parent, especially since in one of her blog posts she wrote, "Being surrounded by art, music, nature, intelligent and learned people of all walks of life… there is no other way I could imagine raising my tiny tribe." It's kind of adorable and makes me want to know her in real life and not just on the social experiment that is Big Brother. Then again, it also worries me that she may not be as competitive or as willing to be ruthless as some of the other contestants this season.
Sometimes houseguests will surprise you, though. Even though in a perfect world I would get to do a little research ahead of time on Angie by snooping through her Insta, I guess we'll have to settle for meeting her when Big Brother premieres Wednesday night.