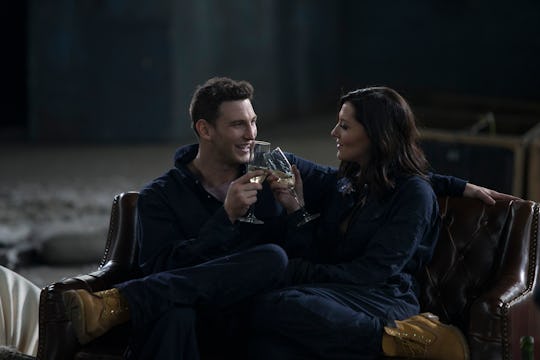 Paul Hebert/ABC
Blake's Job Gives Him Something In Common With 'Bachelorette' Becca
Every season on The Bachelorette you have your fair share of models, social media influencers, and athletes. But, to be fair, you also get a few contestants with careers that don't seem too outrageous or untouchable. Take Blake Horstmann, whose job was listed as sales rep in the season premiere. So what is Blake's job outside of The Bachelorette, exactly? According to LinkedIn, Blake received his communications and marketing degrees from Hastings College in 2011, and since then he's been consistently working in sales.
Currently, he works as an "off premise sales rep" for Coors Distributing Company and has actually been with the company for the past few years, working first as a merchandiser. Then he moved into a position involved in route relief, which seems to essentially be delivery and building displays to best suit the products' needs. On Glassdoor, a listing for Blake's job at Coors Distributing Company includes the ability to meet "established sales objectives monthly and annually for entire portfolio," being "responsible for maintenance of assigned company vehicle, tools, and equipment," and presenting sales pitches and maintaining relationships with clients as needed, among a ton of other qualifications.
Needless to say, Blake definitely has some big responsibilities, and the fact that he's stayed with the same company for the past four years proves his commitment to the important things in his life.
Thankfully, Blake's Instagram doesn't show any evidence of some side gig as a model or the need to start shilling the teeth whitening kits or mail order boxes that some reality stars get into. For the most part, Blake seems like he's dedicated to having fun and maintaining strong working relationships. He even recently participated in a St. Jude's charity golfing event with his company. Of course this probably included plenty of beer because that's kind of his line of work, but hey, at least it shows his dedication.
As far as how Blake's job as a traveling beer sales rep based in Colorado will work with Becca Kufrin's own profession, it doesn't seem like it'd be a huge stretch. The Bachelorette herself is a publicist in Minnesota, but technically she could take up her profession almost anywhere else and still excel. Likewise, Blake can continue to be a traveling salesman regardless of where he's based out of and in a way, he works in marketing just like Becca.
Obviously it's way too soon to tell exactly how far Blake will get this season, or if he'll even make a solid connection with Becca, but since he's clearly fine with extensive and often plane travel, it wouldn't be hard to convince him to relocate. That is, of course, if he ends up with Becca and the two need to make plans to either live together or workout a long distance relationship. That means lots of plane rides and weekend getaways to keep the romance strong!
Being an experienced salesman might also give Blake something of a leg up this season, since he'll need the confidence to compete for roses and Becca's love, but also the ability the pick himself back up each time the other guys knock him down. And since this is The Bachelorette, it's definitely not going to be a constant stream of happy cocktail parties. As seen in the premiere episode of Becca's season, these men are out to win Becca's love and affection by any means necessary. That means even if it entails throwing each other under the bus or starting drama a little too early on in the game.
To his credit, Blake already seems like one of the more genuine and down to earth contestants competing for Becca's love. Honestly, his personality alone could take him a long way!