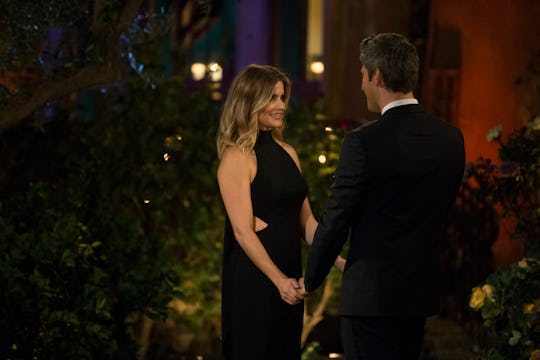 Paul Hebert/ABC
Chelsea From 'The Bachelor' Is A Hard-Working Single Mom
It's easy to get wrapped up in each season of The Bachelor, so you sometimes forget that these contestants each had a life long before the cameras started rolling. And for Chelsea Roy, that goes double, because not only is she a mom, but she's also extremely career-driven. It's likely to come up pretty early this season, which will no doubt leave fans to wonder, what is Chelsea's job outside of The Bachelor? The contestant is a hard-working single mom who actually has more in common with this season's Bachelor, Arie Luyendyk Jr., than you might think.
Though Arie was a race car driver before he was anything else, including a contestant on The Bachelorette Season 8, he now works in real estate in Scottsdale, Arizona. And like him, Chelsea works in real estate as an executive assistant. Her former LinkedIn profile said as much, and even said that she works for Dambrie Garon Real Estate Experts in Portland, Maine, but it has since been deactivated.
Likewise, the website for the real estate company, which is partnered with Keller Williams, previously had a bio for the Bachelor contestant, but it's also no longer there. But in September, Dambrie Garon Real Estate Experts uploaded a video of Chelsea to their YouTube page, detailing her job with the company, so she may still be with the agency.
There are a few explanations for why Chelsea's bio was removed from the company's website and her LinkedIn profile was deactivated. Now that she's going to be in the public eye so much, Chelsea might be craving a little more privacy, especially since she has a young child. There's also the chance that she had to quit her job in order to gain the time off to be one of the contestants on Season 22 of The Bachelor, which can include weeks of filming and travel that require flexible jobs for these contestants. Then again, it's also possible that Chelsea is no longer with the company and has since been looking for similar work elsewhere. Either way, it's definitely in her favor to have that real estate experience since Arie does too.
And as far as valuing her privacy while the show airs on TV, that's completely understandable. It's one thing to have no problem with your own life suddenly being an open book, but as a mom, there's another person's privacy to consider, so if that's part of the reason why some of her online profiles and bios were deleted, it makes sense.
In the YouTube video, Chelsea describes her job as working closely with both clients and brokers in order to keep things organized and running smoothly. One of the co-owners of the agency, Nicholas Dambrie, is also shown speaking highly of her ability to work with clients and take them through the process of closing on their homes. This was posted as recently as September, so Chelsea likely left on good terms, if she did end up leaving the agency.
According to Chelsea's Instagram, she also does some modeling on the side, though clearly real estate is where her career currently lies and where her education from the University of Southern Maine has been put to good use. But being featured in ads in Maine Home & Design certainly looks good for someone who has a part-time modeling gig.
Obviously first and foremost, Chelsea is concerned with the well-being of her son, but as far as her career goes, it seems like she's had a long and healthy position with Dambrie Garon Real Estate Experts. And if things really work out with Arie, maybe they can go into business together as a couple and be Bachelor Nation's own Chip and Joanna — but with a lot less shiplap and interior design.
Check out Romper's new video series, Romper's Doula Diaries:
Watch full episodes of Romper's Doula Diaries on Facebook Watch.