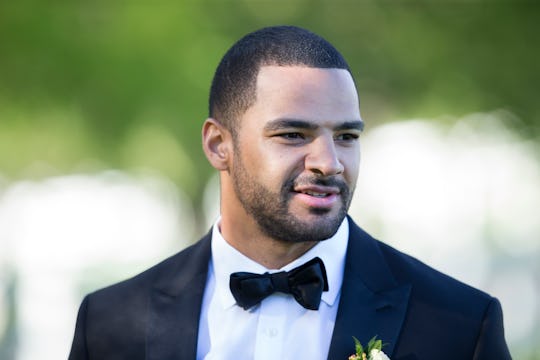 Paul Hebert/ABC
Clay's Pre-'Bachelorette' Net Worth Is Not At All Shabby
Instead of an onslaught of contestants with gimmicks out to get attention and Instagram followers, Becca Kurfrin's season of The Bachelorette has some pretty quality contestants on its roster, including a few former NFL players. One of them is Clay Harbor, who's a free agent for the NFL and has proven himself to be just as sweet as he seems, but since he's still a professional athlete, what is Clay's net worth on The Bachelorette? Although his actual calculated net worth is hard to determine for sure, Over the Cap lists all of Clay's football earnings and that alone sets him pretty high as far as overall professional football income is concerned. According to the site, Clay has earned more than $8 million overall between all of his different NFL contracts throughout his career so far. Not bad!
That of course does not include anything else he's worked on professionally or any other income streams he might have, so as it stands, Clay's net worth probably isn't too shabby. The most recent team Clay played for, the New Orleans Saints, in 2017, listed his base yearly salary as $900,000, so once again, Clay has proven himself to be a valuable athlete and because of that, his actual net worth is likely pretty high up there.
Whatever Clay is worth and however much money he regularly has coming in don't necessarily equate to his worth on The Bachelorette, but it certainly doesn't hurt when the contestant has a successful career and focus on said career as well. Over the almost 10 year long career he's has in the NFL, Clay has played for Detroit Lions, Jacksonville Jaguars, New England Patriots, and New Orleans Saints. Before that, he played football for Missouri State University, which is where he was drafted from at the start of his football career.
At the moment, Clay is a free agent, which means he isn't affiliated with any team specifically, but he seems more than ready to get back into the game, literally. On Instagram, he's posted multiple pictures and captions about his football days and has said more than once that he's ready to get back out there and play again. Under one photo in Instagram from a past game, Clay captioned it with: "Working hard to get back on this field and continue doing what I love. It may be a game to some but to me it's much more."
He did suffer a leg injury in 2017, which may have contributed to his longer than preferred break from the sport and from his career, but he's clearly all better now and ready to return to the game that he seems to love so much.
It's unclear when and if Clay will return to football, but that seems to be the goal for him and obviously he's stayed in shape since his injury in 2017 sidelined him and earned him a leave from the Saints. It's certainly not the best case scenario for an athlete who's dedicated to the game, but the fact that he hasn't given up says a lot about who Clay is. He doesn't seem to have or want any other career to fall back on, so chances are he's going to be doing everything he can to play in the NFL once again as soon as possible.
Until then, something tells me that his net worth and total income of around $8 million will keep him comfortable and able to focus on staying in shape and remaining injury-free. Perhaps the love of a certain Bachelorette can aid in helping him stay on the right path in his preferred career?