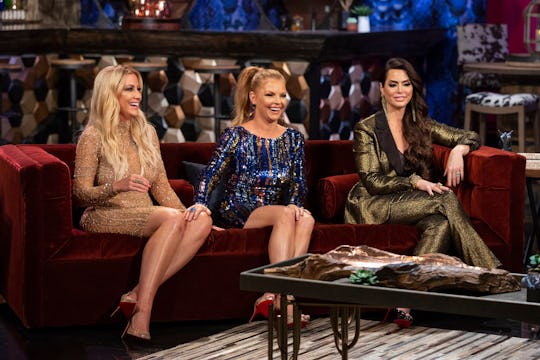 Greg Endries/Bravo
D'Andra Has A Big Secret About LeeAnne On The 'RHOD' Season 3 Reunion
The war between D'Andra and LeeAnne seems like it's never going to end. The Real Housewives of Dallas stars are about to get into it again on the Season 3 reunion and in the preview, D'Andra announces that she has a secret about LeeAnne she's ready to share with the world. So what is D'Andra's secret about LeeAnne at the RHOD Season 3 reunion?
In the trailer, D'Andra says, "For two years, I have held a secret about you, LeeAnne, so I'm going to reveal it right now." The clip then cuts to LeeAnne saying, "Why don't you jump in a f*cking lake and drown?" and shots are officially fired. There's no question that LeeAnne and D'Andra's season long rift will take center stage at the reunion, but now fans are wondering what this big secret is. If it's something D'Andra has known about for two years, then it's likely something that happened when they were still close.
Neither woman has elaborated on the alleged secret ahead of the reunion, but Kameron did say at a Vanderpump Dog Foundation event that "nothing got resolved." She added, "You'll see people speaking their truth, which sometimes is not the truth." This could be in reference to whatever D'Andra's secret about LeeAnne is. It's possible that D'Andra is lying about having a secret to reveal at all, if only to hurt her former friend and make her sweat.
D'Andra's secret about LeeAnne could go back to her previous claims that LeeAnne's fiancé cheated on her. Earlier in the season, LeeAnne and D'Andra's friendship really suffered when word got back to LeeAnne that D'Andra had allegedly started the rumor. At the time, LeeAnne didn't believe that D'Andra hadn't started the rumor, but maybe D'Andra has more details to spill.
She could also reveal something about D'Andra's finances, since a big part of D'Andra's issue with LeeAnne was that LeeAnne had supposedly mentioned that D'Andra had less than $200 in the bank. D'Andra made a joke to LeeAnne about spending the last of her money in the bank, and once LeeAnne repeated that, it got out of control and widened the rift between the women. There's no hint yet at what D'Andra's secret about LeeAnne really is, so right now, this is all just speculation based on their feuding over the course of Season 3.
All I can say is that I hope the RHOD Season 3 reunion marks the end of the D'Andra-LeeAnne saga. They were friends, then they weren't, then they tried to make up, and things got worse. It's like a never ending circle of fighting and mistrust. They've veered so far from the friendship they once had that it's likely impossible to ever fully come back from this.
I don't know if the reunion is going to solve all of their problems, but I think most fans have had enough. They need to either make up and move on or just move on from the ongoing drama. It has made for good TV this season, but there's only so much you can take as a viewer before you're wondering why they're on the same show together.
Whatever D'Andra's secret is, whether it's true or not, could make LeeAnne finally call it with their feud. If viewers are over it, then the women themselves have to be and if D'Andra's big reveal is as petty as I'm expecting it to be, maybe they'll finally agree to disagree and just no longer speak. That might be hard since they'll both likely be on RHOD Season 4 if the show returns, but it's definitely time for other housewives to air their own drama.
This first-time mom wants to have a home birth, but is she ready? Watch how a doula supports a military mom who's determined to have a home birth in Episode One of Romper's Doula Diaries, Season Two, below. Visit Bustle Digital Group's YouTube page for the next three episodes, launching Mondays in December.