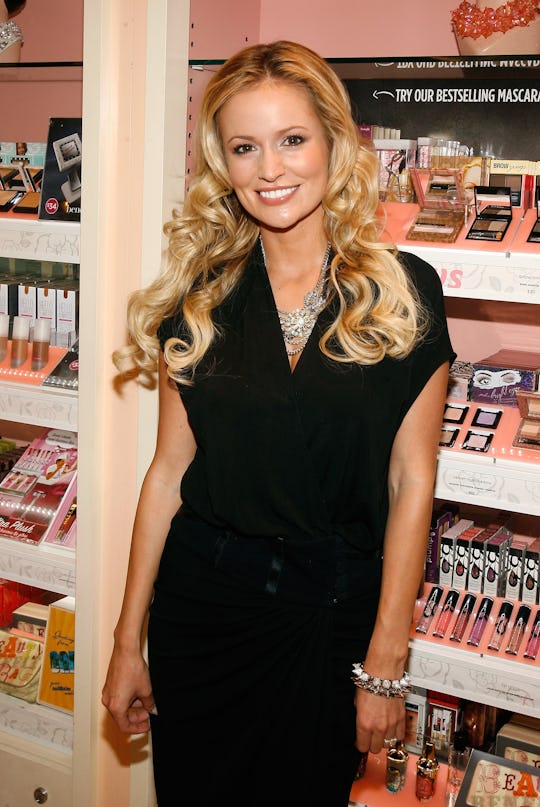 Mike Lawrie/Getty Images Entertainment/Getty Images
Here's Everything Emily Maynard Is Tackling Now
On Aug. 29, #BachelorNation learned that Bachelorette alum, Emily Maynard, was pregnant with her fourth child. In light of the adorable development, fans expressed a renewed interest in Maynard's personal and professional life in 2017. So, what is Emily Maynard doing now?
As diehard fans of Maynard probably already know, she and her husband, Tyler Johnson, are already parents to three children. Maynard and Johnson have 2-year-old Jennings Tyler and 11-month-old Gibson Kyle together, while Maynard has a 12-year-old daughter, Josephine Riddick Hendrick, from a previous relationship. It's safe to say Maynard has her hands full with three young kids and a baby on the way, especially since Maynard recently underwent emergency appendix surgery while six months pregnant with baby number four, according to Extra TV.
Family life and pregnancy complications aside, Maynard keeps busy by speaking out on the Bachelor/Bachelorette franchise throughout the year. Similarly to Bachelorette alum Ali Fedotowsky-Manno, Maynard regularly offers her thoughts and opinions on various contestants, especially when a new lead is chosen.
On Thursday, fans learned that Maynard's ex-boyfriend, Arie Luyendyk Jr., was selected to be the next Bachelor. Given Maynard's past relationship with Luyendyk Jr., news outlets reached out to Maynard for her hot take on the pick.
Maynard said in a statement, according to Us Weekly:
I can't think of a better person to be The Bachelor than Arie and I've been hoping this day would come since Season 8 ended! He's a gentleman through and through and all the girls on his season are lucky to have him. I'll be wishing him nothing but the best because that's absolutely what he deserves!
In addition to her role as an unofficial spokesperson for the franchise, Maynard spends a lot of time managing her website, EmilyMaynard.com. The website features advice on everything from beauty to fashion, and in February, Maynard collaborated with makeup artist Lindsey Regan Thorne to create a popular makeup tutorial. Maynard said of her website, according to the site:
This is the place where I can write down and share answers to all of the things people ask me about. Where I shop, what's on my wish list, and which brands I love—these are the topics I love to talk about! And I'm excited there are people like you who have encouraged me to go on this adventure.
Although it's hard to imagine how Maynard manages blogging and her post-Bachelorette life with motherhood, one thing is for certain — she's having a lot of "fun" with all of the chaos.
Maynard said in January, according to ET Online:
It is crazy at our house all the time, but it's a lot of fun.