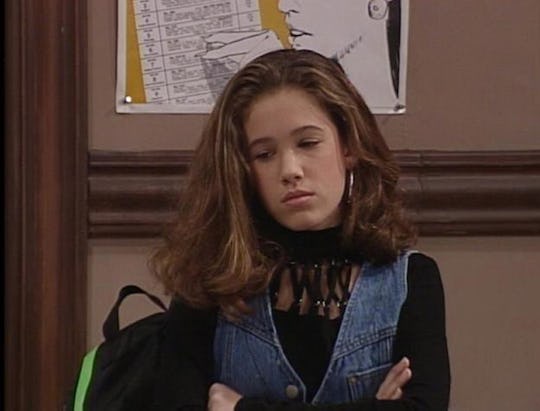 ABC
What Is Gia From 'Full House' Doing Now? Marla Lynne Sokoloff Has Embraced Motherhood
It's been more than 20 years since Stephanie Tanner's bad girl BFF, Gia, graced viewers with her presence in midriff-baring tops and that snarky sneer, but it looks like she'll be coming back to the Tanners (and Fullers) for Season 2 of Fuller House. But what is Gia from Full House doing now? The actress who plays her, Marla Lynne Sokoloff, is now a mother of two and frequent mommy blogger who has fully embraced motherhood. But that doesn't mean that she hasn't taken some time for herself in the past few years to do what makes her happy. And aside from being a mom, that seems to be acting.
But when she's not doing multi-episode arcs on different TV shows or putting out albums (yes, she did release one in 2006), Gia from Full House is doing the mommy thing by running a People magazine blog and talking about the fun and sometimes stressful situations that come with being a mom. It's a far cry from the cigarette-smoking bully that Stephanie first met on the show, but since the two later became friends, I can forgive Sokoloff for playing a pretty good mean girl.
But in the 20 or so years since Full House, she's done a lot. Of course, nothing is as important to fans as seeing her reprise her role as Stephanie's BFF on Fuller House, but Sokoloff has a lot going on otherwise too.
Sokoloff might always be bad girl Gia to some, but I promise, she's just as interesting in real life too.
Her Husband Is A Music Composer
Sokoloff met her husband Alec Puro shortly after ending a five year relationship with James Franco (that's right) and at the time, Puro was a drummer for the band Deadsy. Now, he's a music composer for both TV and movies and co-founded the music production company, Gramoscope Music. In 2006, Sokoloff released her own album, Grateful, which would be her second venture into music after being part of the band Smitten. But you have to assume that some of that inspiration came from the man who would eventually be her husband.
She Has Two Little Girls
Sokoloff and Puro have two little girls, three-year-old Elliotte, and almost two-year-old Olive. Sokoloff shared her story of Olive's premature birth with People and has been open about the fear and worry she felt when she started going into labor in the middle of the night, six weeks early. Flash forward more than a year later and both girls are healthy and happy kids, littering Sokoloff's Instagram page as most kids will tend to do.
Her People Magazine Blog Talks About Her Personal Life
Sokoloff is currently a celebrity blogger for People magazine, writing about being a mom to her two daughters and being pretty candid in the process. But the amount of honesty she puts forth in her articles, from being almost disappointed that her second child came early, to her newborn's lung surgery, is refreshing.
She's Been Steadily Acting
Since Full House, Sokoloff has been a series regular on shows like The Practice, Party of Five, and later, The Fosters. She's also appeared on Hot in Cleveland and Grey's Anatomy. So despite fully jumping on the parenting train, Sokoloff has been steadily working for the past two decades regardless.
She Has A Movie Coming Out Next Year
Somehow between cooking adorable bento box lunches for her kids and managing her People blog, Sokoloff found the time to co-star in the movie A Happening of Monumental Proportions, which comes out in 2017. The comedy also stars Katie Holmes and Allison Janney and is directed by Judy Greer (13 Going on 30).
Gia from Full House might be all grown up now, but judging by the photos for Season 2 of Fuller House, she's probably not much tamer, but that's the way fans like her anyway. Fuller House Season 2 premieres Friday, Dec. 9 on Netflix.