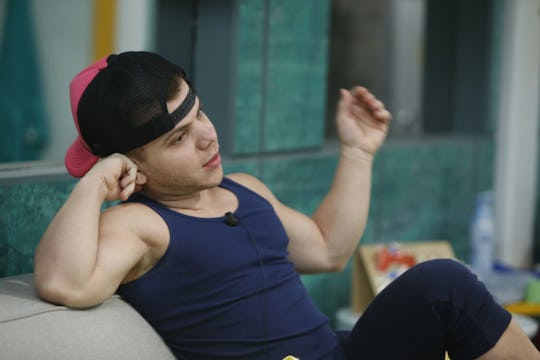 Sonja FlemmingCBS
JC Mounduix's Instagram Before 'Big Brother' Proves He's Just Being Himself
It's hard to know for sure if the houseguests of Big Brother 20 are the same way outside of the show as they are on camera, but for some of them, you just can't make this stuff up. And JC Mounduix's Instagram before Big Brother shows that he's just as wild in real life. Well to be fair, his Instagram is actually private but the bio reads "I don't know what I'm doing, but it feels amazing!" followed by a bunch of emojis and "From Miami, living in L.A. but around the world." There's also a link to his Facebook page which isn't private and showcases all of his different travels and appearances around the world. And honestly, his personality on Big Brother doesn't seem like an act meant to gain social media followers at all.
Outside of the Big Brother house, JC is a professional dancer and event promoter who's basically a ball of energy and muscles. Inside the house, he's just as energetic and doesn't seem intent on putting up a facade of any kind with the other houseguests. Whether this proves to be good or bad for his game has yet to be determined, but JC's Instagram outside of Big Brother and his social media in general seem to be a testament to his life of making public appearances and dancing for a living.
Before the season even started, you could tell that JC was going to be one of the houseguests to give us the best soundbites and memorable lines worthy of memes. In his pre-show interview with Ross Mathews, JC said in his thick accent, "I promise America, I'm gonna give you an amazing summer with a lot of entertainment and you guys will get to understand all I'm saying by the end of the summer." So naturally, fans want to know more and see more via social media — I mean, already I was pretty interested in him. Unfortunately, you'll need to send follow requests for JC on both Instagram and Twitter, but his Facebook does prove that he wasn't lying about his world travels and fast-paced lifestyle as a performer and large-scale event planner.
According to his Facebook, JC attends all kinds of events, whether it's an award show for pornographic movies or an event he's headlining himself as a dancer and local personality in West Hollywood. Oh yeah and apparently, he has also hung out with Kid Rock, so apparently JC does not play around. Speaking of playing — so far, JC's personality has managed to keep him under the radar of being targeted, so he's doing something right. Right now he's in just one alliance, which is a final two with Tyler Crispen, but since alliances shift and change all of the time, JC could find himself aligned with literally anyone else as the season progresses. But that just goes to show that he literally could click with any one of the other houseguests because, as his social media proves, that's just how JC is in real life.
So far this season on Big Brother, JC is a definite floater and has flitted from group to group to talk game and socialize, but judging by his social media, that's just how he is in real life anyway. So if it works for him and means we get more impromptu Diary Room dances, then so be it. I don't know about some of the other houseguests, but it genuinely seems like JC is just being himself at every turn and if it ends up taking him far in the game this season, then I am totally here for it.