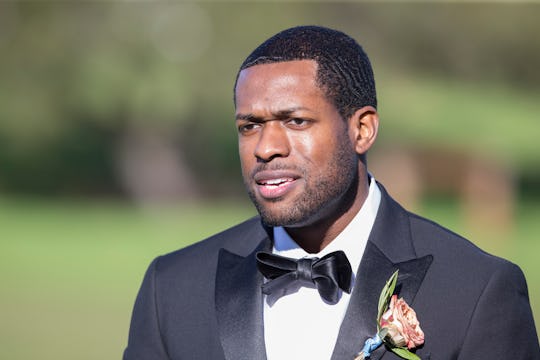 Paul Hebert/ABC
Jean Blanc's Exit From 'The Bachelorette' May Have Been For The Best
The Bachelorette really has a way of making viewers feel as uncomfortable as possible with second hand embarrassment taken to the highest degree. At least that's what happened when Jean Blanc went home Monday night during week four's episode and had the longest exit ever. That was pretty early on in filming, though, so what is Jean Blanc doing after The Bachelorette? The colognoisseur seems to have been inspired by his time on the show because, according to his Instagram, he's come out with a brand new signature scent called Toujours Rose, which he said on Instagram, translates to "forever rose."
I refuse to believe that he had plans all along to come up with the women's perfume before he went on The Bachelorette, where roses are part of the very foundation of the show and elimination ceremonies. In Jean Blanc's Instagram video introducing the perfume, he said, "It's the longest lasting rose scented fragrance ever created. It's a passionate project of mine, I've been working on it for several months, and I can't wait until you guys smell it. It's gonna blow your nose away."
Also, it may or may not have been the scent he gifted Becca Kufrin with before he left toward the end of the episode Monday night.
Every season there's one contestant who takes it upon himself to be "that guy" and make declarations of love far too early and Jean Blanc was actually the first guy to tell Becca that he was falling in love with her. Whether it was legitimately there or not is anyone's guess and really, only Jean Blanc knows how he truly felt, but even so, it was way too early to start throwing around that word. And in the end, Becca realized that those feelings weren't reciprocated enough to keep him on and, sadly, she sent him home ahead of the actual rose ceremony.
Under another Instagram post, Jean Blanc wrote in length about his feelings for Becca and reiterated that yes, he was falling for her. On a show like The Bachelorette or even The Bachelor, feelings can grow quickly, especially since spending time with your intended is the main focus. It's definitely possible that he could have had some strong feelings for Becca, even if she didn't feel the same way. On the other hand, it's also possible that he could have confused straight up feelings for love. Feelings can be confusing in the real world, let alone on a reality dating show.
"Unfortunately my @bacheloretteabc journey ended tonight but my pursuit of love still continues," Jean Blanc wrote on Instagram. He also wrote that he is "utterly distraught and heartbroken" over the way things ended for him on the show. "I truly was falling in love with Becca," he continued. "Just because I did not cry does not mean I was not in a state of depression."
That being said, it doesn't look like Jean Blanc is currently involved with anyone else romantically, but instead has gone back to work as a colognoisseur. Given that he only lasted until week four, despite his feelings for Becca, Jean Blanc didn't make it as far as hometown dates or even the final four. Things could have been much worse, but this way, he has time to heal and it's probably been a little easier for him to work through those feelings since he left The Bachelorette.
And, according to Jean Blanc on Instagram, he's also focused on his "ultimate goal" of looking for love once again. Does that mean we can expect to see him on the upcoming season of Bachelor in Paradise? The full official cast list hasn't been announced yet, but he definitely has a lot of love — and fragrances — to give.