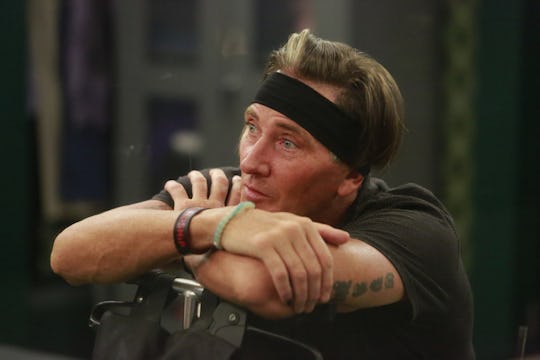 Bill Inoshita/CBS
The 'Big Brother 19' Houseguests Are Getting Suspicious About Kevin
It was only a matter of time before Big Brother 19's strongest alliance started to turn on its weakest member and once Mark is out of the house, it looks like Kevin will be next. From questioning his relationship to Cody to his life outside of the house, Alex is on a mission to get the house's oldest member the boot. But here's the thing — no one really knows anything about Kevin — not even his place of employment. So what is Kevin's job outside of Big Brother 19? It's a question Alex is now determined to answer.
Now that houseguests like Alex and Paul have become increasingly suspicious of the Boston dad of seven, it's clear that he's soon to have a target on his back. For the recent special Friday episode of Big Brother 19, Season 16 winner Derrick Levasseur returned to the house and when he gave Kevin an affectionate hug, Alex's suspicions were piqued. Because Derrick is an undercover cop and fans know this, Alex assumed that he might know Kevin outside of the house and that it would mean Kevin is also secretly an undercover police officer.
Almost immediately, there were questions about Kevin's job outside of Big Brother 19 with many wondering if he even has kids. Of course fans know that Kevin's seven kids are a huge part of his life and that he's been a stay at home dad to take a huge role in raising them, so this accusation feels like a bit of a stretch.
He mentioned once on the live feeds that he's retired, but can afford to stay home with his kids because his wife makes more than $200,000 per year as a neonatal nurse. What career he retired from wasn't clear, but the one job fans can be sure Kevin had prior to being a Big Brother 19 contestant was as a professional male model.
That's right, everyone's favorite Big Brother dad was a model in his heyday and he looked pretty good doing it. In an ExploreTalent acting profile that looks like it might be Kevin's, he mentions being into modeling and acting in Boston in the 1980's but since he started a family, it was more important to focus his time and attention on that. But, according to the profile, now that Kevin's "older and wiser," he'd like to get back into the business. Maybe Big Brother 19 was a roundabout way of doing that, but regardless, he isn't really hiding anything major.
Out of all of the houseguests this season, Kevin has been the most straight forward with everyone about who he is, and his only downfall is wanting to be a good guy to everyone, including those outside of Paul's "it" crowd. Kevin already inadvertently drew attention to himself before Cody was evicted on Big Brother 19 when he refused to ostracize Cody like the rest of Paul's whole-house alliance.
Neither Paul or Alex took too kindly to Kevin being friendly with their perceived enemy and right then they'd already been suspicious of the houseguest. When Alex brought up the possibility of Kevin being an undercover cop, it was almost as if she'd been waiting for something to make everyone else in the house turn against him.
Even if Kevin is the next one to go after they get Mark out, though, there's still a good chance he could win America's Favorite Player, and with the couple of cash prizes he's already won, the former male model could still make out pretty well when it's all said and done.