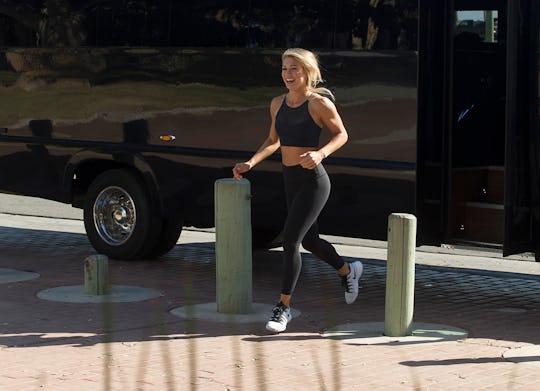 Paul Hebert/ABC
Krystal Is Doing Well For Herself Since 'The Bachelor' Ended
Even though The Bachelor Season 22 is well underway but not quite at that final four milestone, the season wrapped filming weeks ago, so in real life, all of the women have gone back to their lives. This includes the contestant who got the unfortunate villain edit of the season, Krystal Nielson. But now that filming is over, what is Krystal doing after The Bachelor? The contestant got back to work right away and seems like she's living her best life possible and honestly, I really can't blame her.
Before The Bachelor was even a thing for her, Krystal was a successful trainer and fitness coach both on social media and in person, so naturally, she was able to jump back into her career as if she'd never put it on hold to film The Bachelor. In fact, she's probably working harder than ever since, in addition to her videos and words of motivation on Instagram, she's now posting workout videos and tips on her YouTube channel. She certainly didn't need The Bachelor for a boost in her career, but it probably didn't hurt matters at all.
Since Krystal was already a fitness instructor prior to going on the show, it's no big stretch for her to post new workout videos online, but doing so on her own channel, as opposed to the videos she's done in the past for FitLifeTV on YouTube, marks an important milestone in what you might call Krystal's brand. In fact, she seems to have thrown herself into her work, even writing on Instagram that during one week recently she "spent 18 hour days between clients, filming, editing and collaborating."
She obviously has a truly dedicated work ethic that isn't going to be slowed down by seeing herself on The Bachelor or knowing how her actions may have been perceived by some of the other women this season. Krystal is doing Krystal and there's seriously nothing wrong with that.
Though it's hard to really get to know these contestants on the show, once filming and editing has finished, it's always refreshing to see how they interact on a more normal level, or at least when there aren't tons of cameras nearby and lots of competition in the air. Krystal recently went on the YouTube show Will You Accept This Ride? which typically hosts contestants and even the Bachelor or Bachelorette of each season in a light-hearted short interview. Surprisingly, Krystal actually had a really good sense of humor about everything during her interview.
"I was working with what I had," Krystal admitted. She even shed some light on the big blowout that followed the group bowling date during Week 5. "The reason why I was so upset was because I felt like we weren't good enough, we weren't enough for him, we weren't what he wanted," she said of the date in which Arie decided at the last minute to allow the winning and losing teams to both have time with him in the cocktail afterparty.
Call it bad editing or call it showing Krystal's supposed ruthlessness when it came to trying to win over Arie this season, but after filming wrapped for her, she went back to her life with an even stronger passion than she seemed to have before. If she isn't the contestant Arie proposes to at the end of the season, she's still finding success in her profession in numerous new ways, so I'd say she definitely hasn't suffered from the experience.
Check out Romper's new video series, Romper's Doula Diaries:
Watch full episodes of Romper's Doula Diaries on Facebook Watch.