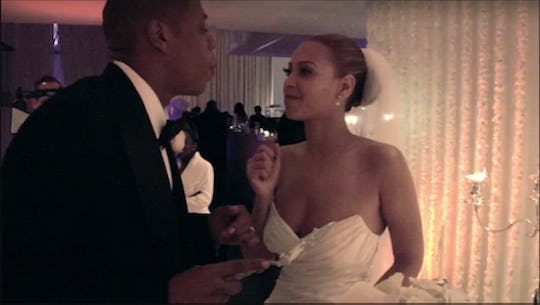 What Is 'Lemonade' About? Beyoncé Has The Entire World Speculating
The world — my world — stopped on Saturday night when Beyoncé released Lemonade on HBO. The entire hour was filled with beautiful imagery, powerful scenes, and, of course, amazing music. But, I couldn't help wonder what Lemonade is trying to tell fans. The themes of the special seemed to cover a lot of cryptic messages, but what exactly is Lemonade about? Beyoncé has the entire world speculating.
Before the special even aired, Beyoncé had people wondering what they were in for. She didn't release much information to fans — we just knew that Lemonade was probably going to be about her forthcoming album and that it was an hour long on HBO. Other than that, it was pretty secretive — something Bey has been really good at when it came to the release of new music.
Unfortunately, the questions just continued to pile up as Lemonade aired. Song after song, scene after scene, themes started building, but nothing was ever said explicitly about the meaning of Lemonade. (Although we did get a wonderful description of why it was called "Lemonade.") For once, I just want Beyoncé to sit me down and say, "Allison, this is what Lemonade is about," because sometimes I need things laid out for me. Deciphering music is never easy, but Beyoncé is really challenging us with this one.
So, what is Lemonade about? We're probably never going to know that unless Beyoncé comes out with a behind-the-scenes of Lemonade. But, there's definitely a lot of material to work with when it comes to trying to understand it. First of all, there was a substantial amount of black empowerment messaging throughout the entire special. That doesn't come as much of a surprise given the last couple years' exposure of widespread and often lethal racial prejudice in police departments. The single "Formation," Beyoncé's last release before Lemonade, also focused heavily on racial themes.
During Lemonade, mothers of young men who were killed — and whose deaths inspired and motivated the #BlackLivesMatter movement — were shown holding photos of their sons, making for a very powerful and emotional scene.
Then there is the female empowerment aspect, too. It is no coincidence that Beyoncé included a group of incredibly powerful black women in almost every single scene of the special. Whether it was Serena Williams or Zendaya, Lemonade was oozing powerful women, highlighting just how special this hour-long visual album was.
And finally, there was the theme that some viewers just couldn't seem to get past, and that was infidelity. Throughout the entire special, lines like "If you try this sh*t again, you're gonna lose your wife," sparked a lot of questions from fans. Romper reached out to Jay Z's publicist about the speculation that there might have been alleged infidelity but has not yet heard back.
Of course, it's all guesses at this point. If any cheating went on, that would be almost impossible to confirm without a statement from either Beyoncé or Jay Z. Hopefully someone will speak up about it, because it's hard to watch Lemonade (or listen to the new album) without feeling like there's a theme of a wronged lover intertwined in it.
As you can see, there's a lot more to Lemonade than just one single theme. It feels like a natural progression for Beyoncé. She has many layers and should be able to release an album that represents the ever more impressive artist (and person) she has become.