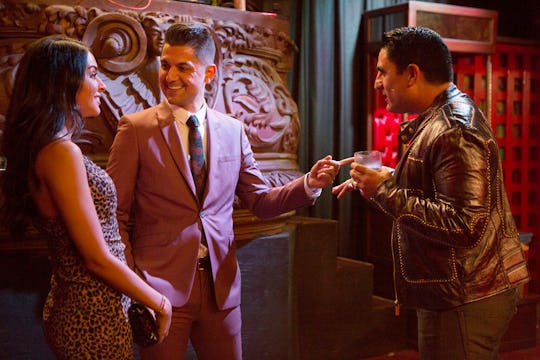 Isabella Vosmikova/Bravo
Nema Vand's Instagram Shows How Likable The 'Shahs Of Sunset' Star Is
Nema Vand is one of the Season 7 Shahs of Sunset newcomers, but he's already getting plenty of attention from fans of the show. And he also seems like a genuinely cool guy who made a refreshing addition to the main cast of the hit Bravo show. Since fans are plenty curious about the newest main cast member, though, everyone is probably asking, what is Nema Vand's Instagram outside of Shahs of Sunset? Sometimes, social media says almost everything you need to know about someone. And Nema's Instagram definitely says a lot about him.
As viewers have already seen on the show, Nema is incredibly close to his family after years of not being very connected to them. So he posts a ton of photos of his parents and younger sisters all over his Instagram. But Nema's Instagram page also shows a lot of personality. For example, he loves to post shout-outs to his favorite '90s TV shows or cheeky jokes — all of which only make him even more likable than he already was. He does his fair share of world traveling too, so if nothing else, you can live vicariously through his perfect tourist shots of far away locations.
So far, Nema has managed to make a few waves and ruffle some feathers on Shahs of Sunset and Season 7 has only just begun. He and Golnesa "GG" Gharachedaghi have a will they/won't they thing going on, all while he's still in a relationship with his live-in girlfriend who is definitely not a part of the show. It's a little messy, yes, but it's also probably why fans are already totally interested in Nema.
On IMDB, Nema has a couple of producer credits and his Instagram bio says that he's a "digital media guy," so there are a few photos of Nema on various sets, actually working. It's refreshing, especially when you almost expect reality TV show stars to consider their jobs the reality show itself.
Recently, Nema apparently went on a studio tour of former Saved by the Bell sets and he was absolutely star struck when he sat behind a recreation of Mr. Belding's desk. Again, his ability to just geek out with no shame makes him even more likable than he is on Shahs of Sunset.
Nema also visited former sets for Seinfeld in the past and wrote on Instagram that the "best moment" of his life was "busting in the door like Cosmo Kramer."
When he isn't having a nerd-out over his favorite '90s sitcoms, Nema is all about his dog, who he FaceTimes with when he's away working on various sets. He's basically like all of us, who just can't not see our pets when we're away from home. Fans have already seen his beloved pup on the show and yes, the bond is very real
Nema's Instagram doesn't let on if he and GG are together now after Season 7 of Shahs of Sunset has finished filming, and it leaves out some pertinent details of his relationship with the girlfriend viewers saw on the show. But it does show how likable and fun Nema is in real life. He's been like a breath of fresh air on a show that's already been on with much of the same cast for several years. It's unclear how long he'll be a part of the show, but Nema's Instagram does make the new Shahs of Sunset star seem like the perfect addition at this time.