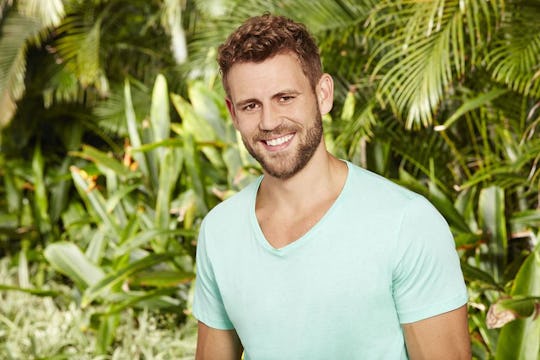 ABC/Craig Sjodin
What Is Nick Viall's Job? The 'Bachelor In Paradise' Contestant Has Branched Into Modeling
When Nick Viall was on The Bachelorette twice and got booted off — twice — it was clear that he was something of a staple in the Bachelorette universe. Now, he's going to be back on TV on Season 3 of Bachelor in Paradise, taking a break off from real life to do his thing as he looks for love yet again. But what is Nick Viall's job outside of the Bachelorette world? Once upon a time, he was an account executive for Salesforce, a company that specializes in cloud service with data, apps, and marketing cloud storage. Now, however, Viall's career choice seems to have shifted. Which is kind of what happens when you make something of a job out of being on TV competing for love and marriage.
Now, Nick Viall's job is all about modeling and promoting different clothing companies though his modeling endeavors via Instagram and his own personal website. Not too bad for a computer guy originally from Milwaukee. Viall was on both Season 10 and 11 of The Bachelorette, coming up short in both instances. But getting a spot on Bachelor in Paradise is the next natural move for him if they aren't going to make him the next Bachelor yet, right? Like, come on ABC, aren't you listening to his obvious cries of him wanting to be loved?
It's hard to say exactly when the modeling bug bit Viall, but judging by his Instagram, he's been modeling different lines of jeans, leather jackets, and suits for about a year now. So, since right around the time that Kaitlyn Bristowe broke his heart on Season 11 of The Bachelorette, then. But he's always been pretty photogenic, so it's not a huge surprise that he would step away from the computer life and embrace his face. And body, and hair, etc.
He's currently signed with modeling agency Wilhelmina in Miami, who also represents fellow Bachelorette Season 10 alum Carl King, so he's kind of the real deal. As his social media game will tell you, Nick Viall doesn't seem to say no when it comes to modeling all kinds of men's fashion. And there's actually a lot more to it than tight jeans and deep, deep v-necks. As a model, Viall has delved into showing off tailored suits, leather jackets, and sunglasses. Basically, he's gone full GQ without actually being in the magazine.
Unfortunately, all of these new modeling skills in his new career path won't do much to help him not get rejected at the last possible minute this season on Bachelor in Paradise, especially with fellow male models Grant Kemp and Daniel McGuire, both from Season 12 of The Bachelorette, to contend with. Let's just hope that this time around on TV, Nick Viall finds (and keeps) what he's looking for.