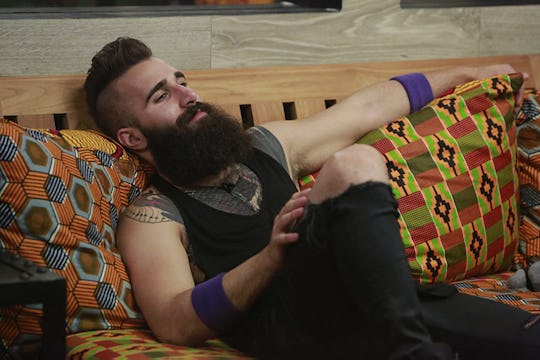 Bill Inoshita/CBS
What Is Paul's Band Outside 'Big Brother 18'? Reviver Is Likely Built On Friendship
If you take one look at Paul from Big Brother 18, you're sure to have some preconceived notions on who the guy is and what he's all about, and that's totally OK. Mostly because, on most accounts, you would be right. He does act cool 110 percent of the time. He also cares for that beard like it's his child. And yes, he's in a band. But what is Paul's band outside of Big Brother 18? Post-hardcore band REVIVER is made up of Paul Abrahamian and five of his buddies who formed in 2013 and have named their message as one "to inspire" and "create a sound unlike any other, accompanied by a message of honesty and transformation." So, not exactly friendship, but you know Paul is going to be all about screaming a guttural version of his catchphrase the next time he's performing on stage.
Paul also owns and runs Deadskull, a clothing line whose pieces you'll see him in littered all over his Instagram. These days, bands of REVIVER's caliber are no strangers to wearing and promoting lesser known clothing labels while out on tour, so in Paul's case, it's like killing two birds with one friendship necklace. Regardless, Paul was definitely not lying about being in a band, so those tattoos and beard aren't just for show. Well, not completely anyway.
The last time REVIVER made any updates to their Instagram, Facebook, and YouTube accounts was last summer, so it's unclear if the band is still active, but their current lull could just have something to do with their band mate Paul currently engaged in a summer-long competition on Big Brother 18. Their music videos are legit, though, with production values that make it clear how serious they are about their music.
Paul's band outside of Big Brother 18 may be his second passion next to his clothing line, but it's also hard to scroll through his Instagram without finding several photos of him with his guitar, or short videos of him doing covers of popular songs. So, there's that.
Editor's Note: The Instagram post has since been deleted.
REVIVER is currently unsigned by any label, but Paul himself has become an instant favorite, if not just super memorable, Big Brother houseguest, so gaining individual fame from that alone may help his music career once he leaves the Big Brother house. That, or actually winning the $500,000 prize at the end of it all and using it to skyrocket his clothing line and band at the same time.
Right now, you can't buy their music, but REVIVER's songs are available to listen to on their Facebook page. This time last year, the band's social media life was all about promoting REVIVER's shows and recording sessions, but lately it has been pretty dead, so we'll see what happens once Paul leaves the Big Brother 18 house and comes back to the real world.