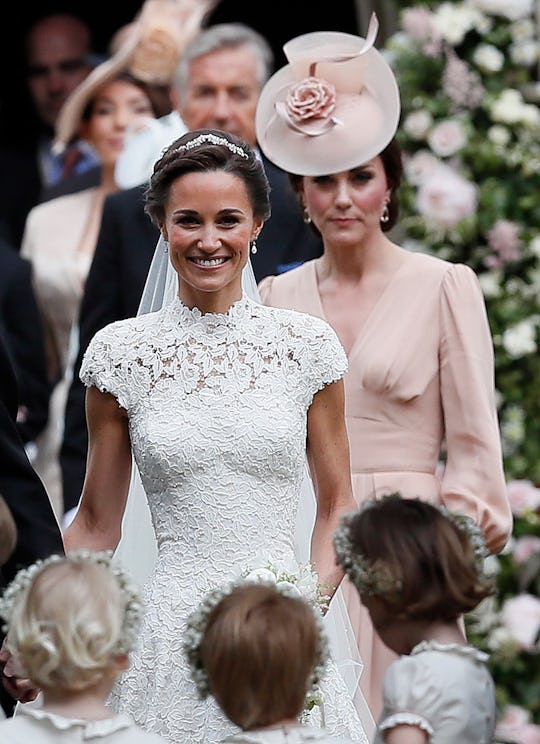 WPA Pool/Getty Images Entertainment/Getty Images
Reported Mom-To-Be Pippa Middleton Is Related To Royalty, But Does She Also Hold A Notable Title?
If you thought you already had a serious case of royal fever, your excitement is about to go into overdrive. In case you missed it, according to Reuters, Pippa Middleton, sister to Duchess of Cambridge Kate Middleton, is reportedly pregnant with her first child. Romper's request for comment was not immediately returned. Now, the younger Middleton isn't a duchess herself, but the reported baby news is no less exciting since Pippa Middleton technically holds a notable title as well after she married her husband, James Matthews.
In May 2017, when Pippa Middleton married financier James Matthews, she also took on a notable title like her sister. According to People, Matthews' father, David Matthews, is the Laird of Glen Affric, a Scottish estate located about 15 miles from Loch Ness. As such, according to People, Middleton's husband is the heir to his father's title, which means that Middleton, as his wife, is the heir to his mother's title— Lady of Glen Affric, a title she will hold one day in the future.
However, since they are the "heirs" to these titles, they don't technically hold them just yet. According to People, Matthews and Middleton can use the "courtesy title" of "Mr. Matthews of Glen Affric" and "Mrs. Matthews of Glen Affric," respectively, in the United Kingdom as well as anywhere in the Commonwealth. But, as In Style reported, Middleton is not formally required to use the title with her name and "can choose to ignore the change altogether."
But, what exactly does Middleton's title mean and what type of responsibilities would it include? Well, as The Observer pointed out, not too much. "It's not exactly an old generation nor aristocratic title — the Matthews family got it after they purchased a 10,000-acre estate in the Scottish Highlands in 2008. But, there is a historic castle on the grounds." As the publication reported, Matthews' father bought the Scottish estate for commercial use and "subsequently development it into a rental property."
Nevertheless, just having the possibility of holding the title of the future Lady of Glen Affric, Middleton's rumored baby-to-be would also be the heir to the same titles, should they continue to own the Scottish estate in the future.
Middleton's alleged pregnancy was first reported by U.K. newspaper The Sun over the weekend. The 34-year-old and her 42-year-old husband are reportedly "overjoyed" by the news and told "close family and friends last week after her 12-week scan," according to the publication.
News of Middleton's reported pregnancy comes days before her sister, Kate Middleton, is expected to give birth to her and Prince William's third child. According to The Sun, Middleton's older sister, and veteran mom herself, "could not have been more delighted" to hear the reported baby news, a friend revealed to the newspaper.
Though Middleton and Matthews have not confirmed or addressed the exciting news, nor have any of their family members, The Sun reported that she is allegedly due in October, meaning she could be at the end of her first trimester now.
If Middleton is indeed expecting her first child, this little one will have the cutest cousins to hang out with, as well as one who'll be pretty close in age once the Duchess of Cambridge gives birth. With 4-year-old Prince George, 2 -year-old Princess Charlotte, and a third royal baby on the way, this little guy or gal will be the perfect addition to their entourage, no matter what title his or her parents choose to use.
Check out Romper's new video series, Bearing The Motherload, where disagreeing parents from different sides of an issue sit down with a mediator and talk about how to support (and not judge) each other's parenting perspectives. New episodes air Mondays on Facebook.