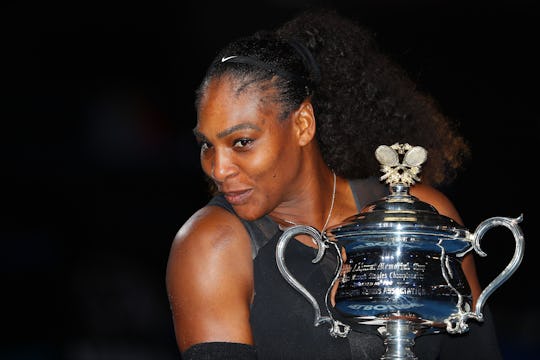 Scott Barbour/Getty Images Sport/Getty Images
What Is Serena Williams' Net Worth?
Oh to be Serena Williams right now. She got engaged in December, won the Australian Open in January, and confirmed this week that she's pregnant with her first child. With seven WTA number one singles' titles and more than a dozen endorsement deals, she is majorly at the top of her game. So, what is Serena Williams' net worth? In her 21-year professional tennis career, Williams has managed to amass quite the sports fortune. In 2017 alone, Williams has won $2.7 million in prize money, according to the WTA website. But that's chump change compared to her entire career. Serena Williams' prize money won over the length of her professional career is a staggering $84.4 million.
Forbes ranked Williams as the 40th highest paid athlete in the world in 2016. In a financial profile of Williams, Forbes also noted that her career prize money is more than twice as much as any other female athlete. But prize money doesn't make up the entirety of her athletic financial empire. Williams landed her first endorsement with Nike in 2003 — a not-too-shabby contract worth $40 million over five years, reported The Wall Street Journal at the time. Williams' sponsors and endorsements have also included Puma, Pepsi, Delta Air Lines, and Wilson. Forbes has Williams' endorsements totaling at around $20 million.
Williams could land even more new sponsors and endorsements, now that she's pregnant, industry experts mused to Reuters shortly after she and fiancé Alexis Ohanian, Reddit's co-founder, confirmed her pregnancy. Other unlikely sources of income for Williams include jewelry and clothing lines with the Home Shopping Network. Williams also owns a small stake in the Miami Dolphins NFL team, with her sister Venus.
When all is said and done, Serena William's net worth is a cool $150 million, according to Bankrate.com. Combined with Alexis Ohanian's net worth of $9 million — which is nothing to sneeze at — their little one will definitely want for nothing once he or she arrives. And if you're curious, Williams' due date is most likely this fall, thanks to her "20 weeks" Snapchat she accidentally posted for all the world to see.
While Williams withdrew from the BNP Paribas Open and Miami Open tournaments last month, citing a knee injury, her latest Instagram indicates she plans to return to tennis after she gives birth. There's been no further word yet regarding which tournaments in which Williams will compete this year, seeing as she's due sometime in August or September. Even so, without heaps of prize money to be won later this year, I have a feeling Williams will be just fine throughout the rest of the year when it comes to her bank account.