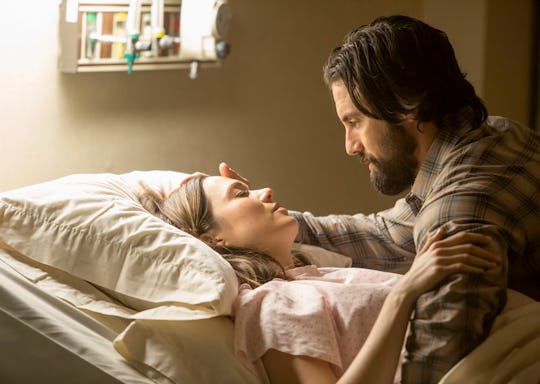 Ron Batzdorff/NBC
What Is The 'This Is Us' Twist? Everyone Is Shocked By The Premiere Episode
When This Is Us premiered on NBC Tuesday night, there was a lot of anticipation about it taking the place of the never forgotten and perpetually mourned Parenthood and every step of the way, it succeeded in doing just that. When you're 10 minutes into the series premiere and you're already crying and swelling up with emotion, it's off to a good start. But the twist in This Is Us was something no one could have seen coming, in that most of us kind of expected the different people of the show to connect in a linear way. But at the end of the premiere, we were given a surprise twist to make us all love the show even more, even though we've only gotten a small taste of it.
The main characters of This Is Us are broken up into pairs, more or less. We have Rebecca and Jack (Mandy Moore and Milo Ventimiglia), a young couple expecting triplets who end up losing one during childbirth. Then, there's Randall (Sterling K. Brown), a successful businessman who was left at a fire station as an infant, and who seems to have a pretty perfect marriage with Beth (Susan Kelechi Watson) and their two daughters. And Kate (Chrissy Metz), who's dealing with her weight problem and twin brother Kevin (Justin Hartley), who is dealing with a crisis of his acting career.
But while all of these lives are going on, changing, shifting, and making you cry because each scene is backed by the perfect music, we have no idea that the young couple we met at the beginning of the episode is actually the parents of modern day twins Kate and Kevin and that everything we'd seen of their scenes in the hospital take place in the 80's, while we're watching their grown up children navigate life today. Boom. Mic drop.
It's also revealed that Randall, who was left at a fire station so many years ago, ended up being adopted by Rebecca and Jack and that he is the brother of Kevin and Kate. Again, mind blown and full goosebumps and tears at the ready here. And that's just the first episode. It's like a smaller version of the Braverman clan from Parenthood, if we'd gotten to see Zeek and Camille when they were just starting out.
Having the surprise twist of This Is Us not only makes the show jump out as totally original, but adds something to a pilot that we already had high hopes for. It's a lot to live up to, but if the premiere of This Is Us and the rising stock in Kleenex is any indication, it'll be able to live up to its first episode.