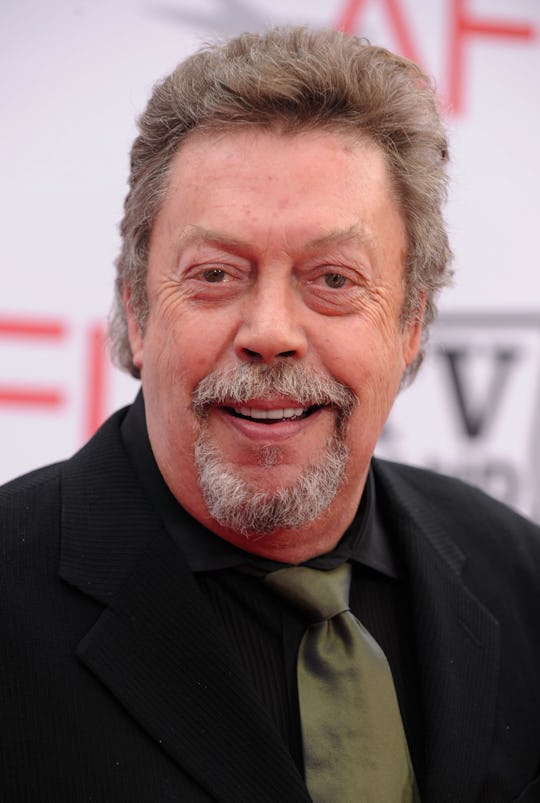 Alberto E. Rodriguez/Getty Images Entertainment/Getty Images
What Is Tim Curry Doing Now? The 'Rocky Horror' Alum Has A Lot To Be Proud Of
Whether you remember him as Pennywise from the Stephen King horror classic, It, or you always equate him with his role as Dr. Frank-N-Furter from The Rocky Horror Picture Show, Tim Curry has done little to nothing wrong career-wise in the almost 50 years that he's been in the business. But what is Tim Curry doing now? Although he hasn't been in much TV or movies lately, he's been keeping busy being honored time and again for his legendary roles and contributions to film over the years — and he's no stranger to making special appearances, much to the delight of his fan base, which legitimately just keeps growing.
Although early on in Curry's career, he could be spotted in various TV roles or appearing in a mini-series, his 1975 role in The Rocky Horror Picture Show is what he's most known for today. Which isn't a bad thing at all, as it became an iconic role that is still played out at midnight showings in small theaters across the country and has warranted the FOX remake airing Thursday night. Some of his other noteworthy roles that pretty much everyone remembers him for today are those from It and Home Alone 2: Lost in New York. But since then, he's never been not working on something.
In 2013, Curry suffered a stroke, which he's spent the past few years recovering from. Since then, he's done a lot of voice work on cartoons like Young Justice, Wonder Pets, and Star Wars: The Clone Wars. But when he's not giving kids the gift of that deep, soothing English accent, Curry is accepting awards and honorary mentions for all of his past accomplishments and the mark he's made in the film industry as a whole.
In fact, in 2015 Curry received the Lifetime Achievement Award at the Actor's Fund Tony Awards Viewing Party. Then, in Halloween of the same, year, he was gifted with the title of honorary mayor of West Hollywood, which he happily accepted. (Who wouldn't, right?) I believe it was the great Beyoncé who once said, "Bow down, b-tches."
Later this month, on October 28 and 29, Curry will also be making an appearance at the Chiller Theatre in New Jersey, where he'll be greeting fans and signing autographs. Honestly, for a performer of his caliber who has reached legendary status, it's insanely humbling to see him caring this much about his fans. If it was possible to love him any more, this would do it.
Most recently, Curry gave his blessing for the FOX remake of The Rocky Horror Picture Show and signed on to play The Narrator/Criminologist, which again, just makes you love the man even more.