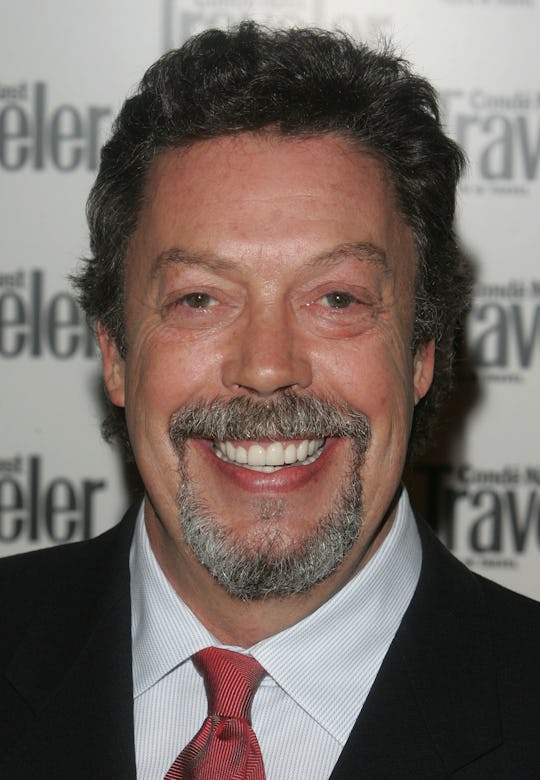 Peter Kramer/Getty Images Entertainment/Getty Images
Who Does Tim Curry Play On FOX's 'Rocky Horror'? His Cameo Is A Must-See
When the original Rocky Horror Picture Show came out in 1975, the lead of Tim Curry as the ambiguous Dr. Frank-N-Furter became a fast favorite for most. The way he moved in those fishnet stockings and glittering corset made the movie. But with FOX's remake fast approaching and Laverne Cox set to play the scientist of the Rocky Horror castle this time around, who does Tim Curry play on FOX's Rocky Horror Picture Show? This time, more than 40 years after the original was released, Curry will play the narrator/criminologist. The role was previously played by Charles Gray, a British character actor, but given that Curry is such a beloved member from the original cast, it's pretty fitting for Curry to play the narrator on Rocky Horror Picture Show.
Some of the more die hard fans (who don't need to look up the lyrics to catch a midnight showing of the film) probably weren't immediately into the idea of a remake of the classic, let alone one that is direct to TV. But once Curry signed on for a cameo, it seemed like his figurative stamp of approval changed all of that. Now, we're actually excited to see this version of Rocky Horror Picture Show decades after the classic that so many still worship today.
A few years ago, Curry suffered a stroke and has since been reliant on the use of a wheelchair, but to have him back in any capacity is like the Godfather arriving onset to solidify the legitimacy of what they're creating. FOX's Rocky Horror Picture Show might be a remake, scaled down for TV, but it can still stand on its own with Cox's version of Frank-N-Furter and Curry returning for a different role to shine in.
Since the original Rocky Horror Picture Show in 1975, Curry has appeared in other all-around classics and blockbusters, such as It and Home Alone 2. But what is arguably Curry's most popular role to date is his Frank-N-Furter in the original Rocky Horror. But now is as good of a time as any to bring the film back in an age where TV is better than ever. Cox said herself in an interview with Variety that during her first time of watching the movie, she was drawn to the character of Frank-N-Furter and thought, "Oh my God, this is me."
Curry won't be reprising his role as the scientist, but he'll be very much present as the narrator we'll count on throughout the story. Rocky Horror Picture Show premieres on FOX on October 20 at 8 p.m. EST.