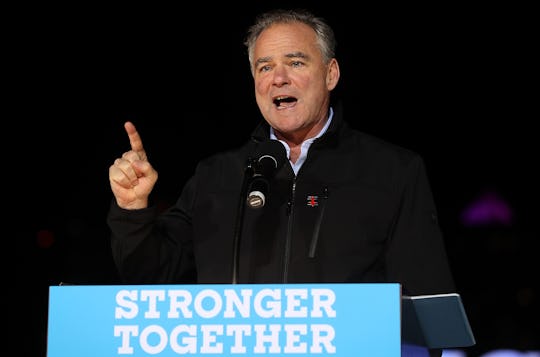 Justin Sullivan/Getty Images News/Getty Images
What Is Tim Kaine's Stance On Late-Term Abortion? You Might Be Surprised
When former Secretary of State Hillary Clinton chose Virgina Sen. Tim Kaine as her running mate, some Democrats balked. Kaine is a loud and proud Catholic, and that made some pro-choice Clinton supporters wary, given the church's position on abortion and contraception. But Tim Kaine's stance on late term abortion might surprise some voters, because although he's personally not a fan of abortion, he's keeping his rosaries out of America's collective ovaries.
It wasn't always this way; in his time as governor of Virginia, Kaine's religion often got in the way of public policy, and originally, he fully supported anti-choice legislation such as a parental consent law. And, according to a statement pulled from his 2005 gubernatorial campaign site by On the Issues, he supported a ban on "partial-birth" abortion, although he advocated for an exception if the life or health of the mother was at risk. He also reiterated that stance in a 2008 interview with Charlie Rose. Kaine did stop short of advocating for criminalizing abortion, however. And over time, his policies evolved: in 2007, according to the Washington Post, Kaine cut funding for abstinence-only education due to its lack of effectiveness, in favor of comprehensive sex education that included information about birth control.
Unfortunately, Kaine had a bit of a backslide on the reproductive rights front when he signed a bill allowing for the sale of "Choose Life" license plates in Virginia, the proceeds of which would fund crisis pregnancy centers, which often masquerade as abortion clinics in an effort to deceive pregnant women and convince them not to have abortions. But by the time Kaine was elected to the senate, his conscience finally underwent a complete separation of church and state; his voting record is now completely in line with the Democratic Party rather than the Catholic Church.
Kaine voted in favor of the Protect Women's Health From Corporate Interference Act of 2014, which prohibits employers from "denying coverage of any health care item or service required under federal law." And according to Vox, he also supported the creation of a federal fund to support abortion clinic security, voted against expanding the Hyde amendment, and has supported Planned Parenthood, both vocally and with his votes. But most importantly of all, in 2015, he voted against the hideously titled Pain-Capable Unborn Child Protection Act, which would have banned abortions after 20 weeks.
On Meet the Press in June, Kaine made his feelings clear: "I don't like it personally. I'm opposed to abortion. I deeply believe, and not just as a matter of politics, but even as a matter of morality, that matters about reproduction and intimacy and relationships and contraception are in the personal realm. They're moral decisions for individuals to make for themselves. And the last thing we need is government intruding into those personal decisions." Kaine now has a 100 percent rating from Planned Parenthood and the full support of NARAL Pro-Choice America. He may not be the most pro-choice vice presidential candidate we've ever seen, but at least he's not disturbingly anti-choice, like his opponent, and if he's come this far, chances are he'll keep on learning and growing, especially if he plans on spending the next eight years by Clinton's side.