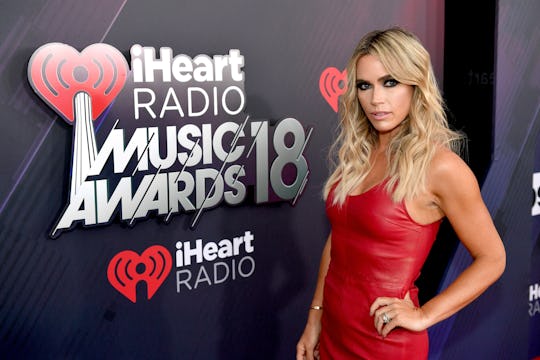 Neilson Barnard/Getty Images Entertainment/Getty Images
Everything 'RHOBH' Fans Need To Know About Teddi Jo Mellencamp's Mother
Teddi Jo Mellencamp, the newest cast member on The Real Housewives of Beverly Hills, found herself at the center of a lot of drama this season, and most of it centered around the fact that she wasn't "used to" the luxurious lifestyle most of the other women enjoy. But she did grow up famous, since her dad is rock star John Cougar Mellencamp. She mentions him a lot on the show, but what about her mom? Was she wealthy as well? What is Victoria Granucci's net worth anyway?
Granucci met Mellencamp on a blind date before he divorced his first wife of 10 years, Priscilla Esterline. He and Granucci were married in 1981 and had Teddi the same year. Her sister, Justice Mellencamp was born in 1985. The family was together until the couple divorced in 1989 and since then, Granucci has really been living under the radar.
Before she became a mom, Granucci had acted as an extra in some movies and TV shows, such as CHiPs, Happy Days, Love Boat, Fantasy Island, Charlie's Angels, Grease, and Thank God It's Friday. She also starred in her husband's videos, including the famous "Jack and Diane."
She probably didn't get paid separately for being in her husband's videos, but she obviously had some dough from her acting career. Online, it's almost impossible to find anything about what kind of work she did after the split or her net worth — so we'll just have to assume she's doing alright for herself.
One thing we do know is that she still lives on Hilton Head, South Carolina, where she moved after their divorce. Mellencamp believes he played a big role in their split due to his wandering eye, telling Entertainment Weekly back in a 1994 interview that that was the price of admission for being married to a rockstar. He said:
How many guys you know in rock bands that have been divorced? There's a reason for that. I don't care who you are or who you think you are, you're gonna fall into the pitfalls of that sooner or later. It's rock & roll. I mean, what other reason would a guy ever pick up a guitar as a teenager?
At the time, he was living just a few houses down from his ex and daughters in Hilton Head, and was planning on repairing his image on his next tour. He told the outlet in the same interview:
It's just like anything: Once you make enough mistakes, you understand what the penalties are. Back then I had the best of both worlds. I'd come home to Indiana, had two beautiful kids, a nice wife, the whole bit. Out on the road I was still 19. And (Vicky) just got sick of it. Can't blame her. So I lost my kids. I thought, man, what have I done?
So, we don't know Vicky's net worth or what she does now, but it's a good bet that she might have gotten a lot of financial help after the divorce, given the cause and Mellencamp's celebrity. These days, judging by her Facebook page, it looks like she's just enjoying being a grandmother.
She told NobleMania.com, "I have been living on Hilton Head Island in South Carolina but enjoy going to the West Coast to visit my other daughter and her growing family." That will probably be the plan this summer, too. In an interview with Romper, Teddi said that she planned on spending some time with her mom and kids this summer, so the whole family seems really close still.
So if Teddi seems to enjoy the simple life, it really sounds like she got it from her mother. Maybe she'll even make it onto the next season of RHOBH if Teddi signs on next year.
Check out Romper's new video series, Romper's Doula Diaries:
Watch full episodes of Romper's Doula Diaries on Facebook Watch.