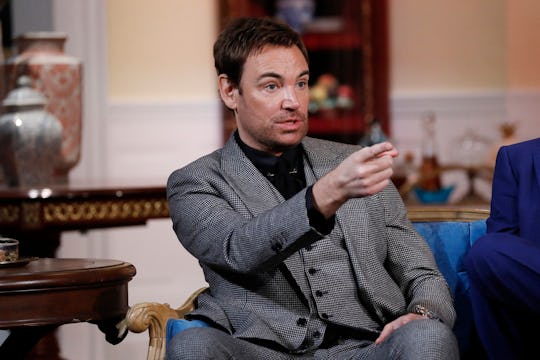 Heidi Gutman/Bravo
'Southern Charm's Whitney Sudler-Smith Has An Impressive Net Worth
Southern Charm just began its fifth season, but the show has already spawned two spin-offs, Southern Charm Savannah and now New Orleans. But the creator of the show that started all, Whitney Sudler-Smith, is also one of the stars of the original Bravo series, with a Hollywood career already under his belt. So, what is Whitney Sudler-Smith's net worth? The Southern Charm star has a busy career that has, according to Celebrity Net Worth, enabled him to now have a net worth of $2 million.
Not only is Whitney the creator and one of the producers of Southern Charm, but he also serves as producer on the other shows now in the franchise. Before that, he directed the 2010 documentary Ultrasuede: In Search of Halston about the iconic fashion designer Roy Halston. He also previously wrote for the TV series Torture TV and Dark Realm. Because of his film career, Whitney spent a lot of time living in Hollywood, but his home base is now also in Charleston, South Carolina with the rest of the Southern Charm cast. As the person who made it all possible for there to even be a show for the cast to a part of, it's not hard to believe that Whitney's net worth is so cushy.
As Whitney told UrbanDaddy, the inspiration for Southern Charm came from his love for film making and the idea of wanting to make more of a documentary. He started out with Thomas Ravenel as one of the potential cast members, but Whitney's agent at the time insisted that it would make a better TV show. Five seasons later, here we are, and Whitney now has more than one TV show under his belt and a net worth of $2 million. If Southern Charm New Orleans sees the same kind of success as his original series, he may likely even see that number rise.
On the show, fans can sometimes see Whitney's relationship with his mom Patricia Altschul as she gives him advice and offers commentary on his life and those of the people in his social circle. Patricia herself is a character all on her own and is the embodiment of what you'd imagine any southern socialite to be, so it's safe to say that Whitney comes from money, though it appears that his career has added plenty to his net worth.
There was also a time when Whitney had aspirations to add restaurateur to his resume by opening up a restaurant with Planet Hollywood creator Bryan Kestner. The eatery, which would have been called Generalísimo, was intended to be a blend of French and Mexican foods, though it never ended up coming to fruition. Some Southern Charm fans might remember Patricia warning her son not to go into the business during Season 1, and it turns out that she was probably right.
Even so, Whitney has done plenty for his career over the years and Southern Charm continues to be a success, thanks in part to his own efforts. Since Southern Charm New Orleans only just premiered for the first time, it definitely shows that Whitney's sights are still set on working in television, even if he's technically part of the cast of the original show too. And out of all of the net worths of the cast of Southern Charm, Whitney is definitely at the top of the list, which proves that all of his hard work throughout the years, even before the show premiered, was well worth the effort for him.
Check out Romper's new video series, Romper's Doula Diaries:
Watch full episodes of Romper's Doula Diaries on Facebook Watch.