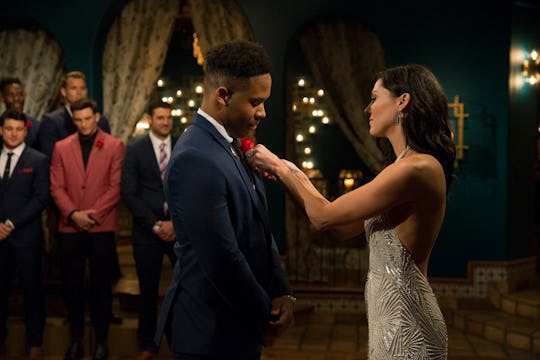 Paul Hebert/ABC
Wills From 'The Bachelorette' Might Have The Most Interesting Job Ever
On The Bachelorette, confidence is key, and for Wills Reid on this season, he seems to have it in spades... much like several other contestants. Since that confidence doesn't come from working as a model or otherwise entertainer, though, it makes you wonder, what is Wills Reid's job? The Bachelorette contestant takes pride in his work, which includes some work in the media. His official job listed on his Bachelorette bio is graphic designer, but apparently Wills is a Jack of all trades. Or is that a Wills of all trades? Either way, he seems to have no apologies and a lot of pride in the work he's done in the past and what he continues to do now.
According to Wells' LinkedIn profile, he's currently a freelance graphic and web designer, but as it turns out, he also used to work at TMZ. Yes, that would be the website that regularly posts juicy celebrity and Hollywood gossip, including bits about The Bachelor franchise as a whole. I'm not going to outright assume that Wills isn't here for the right reasons, but it does make you wonder, given his past work at the website's office. Apparently, he was a news desk researcher, meant to fact check and deal with other technical duties, so at least he wasn't a journalist prior to going on The Bachelorette to hopefully, maybe fall in love with Becca Kufrin.
Wills may have previously worked for a news and entertainment website, but he's definitely not lying about his graphic design experience and passion. In fact, he has his own personal website dedicated to his career, which seems to be the most important thing to him right now, as opposed to going back to work at another website's office. His personal website includes a ton of in-depth looks into his previous work with photography, web design, and advertising mockups. He might not have been super candid about his past with TMZ just yet on The Bachelorette, but his experience and current career focus as a graphic designer seem to check out,
Unfortunately, his social media accounts aren't able to reflect his talent as a graphic designer, because it would appear that he deactivated both his Instagram and Twitter accounts before The Bachelorette season 14 premiered. There is another Instagram account, however, that could be his and seems to have enough personal photos to be legit. Since the first post on that account is from 2016, it's safe to say that it probably wasn't just opened up to start fresh as someone suddenly in the public eye thanks to the 15 minute of fame he'll gain being a contestant.
Wills' LinkedIn also says that he studied design at the University of California, Davis and earned his Bachelor's in design in 2013, so his career as a graphic and web designer definitely isn't brand new for him. If it happens to come up that he also worked for TMZ in the past, though, that might be a conversation that won't go over so well with Becca, but for right now, let's give him the benefit of the doubt.
He seems like he's happy to be here and experience the journey of The Bachelorette with Becca and he seems totally genuine in his enthusiasm so far. His dedication to his growing career just adds to what Becca — and fans — will likely come to love about him. If he takes his time on the show as seriously and treats it as passionately as he seems to do for his job outside of the show, then he should have no problem wooing Becca in no time.